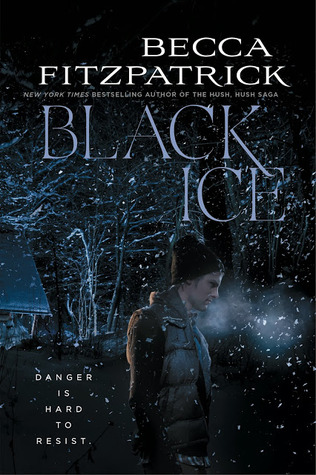 Black Ice
by
Becca Fitzpatrick
Released:
7th October 2014
Published by:
Simon and Schuster
Genre:
YA Mystery
Source:
Publisher
Pages:
392
My Rating:
4 of 5 stars
Goodreads
|
Bookworld
|
Book Depository
Sometimes danger is hard to see... until it's too late.

Britt Pfeiffer has trained to backpack the Teton Range, but she isn't prepared when her ex-boyfriend, who still haunts her every thought, wants to join her. Before Britt can explore her feelings for Calvin, an unexpected blizzard forces her to seek shelter in a remote cabin, accepting the hospitality of its two very handsome occupants—but these men are fugitives, and they take her hostage. In exchange for her life, Britt agrees to guide the men off the mountain. As they set off, Britt knows she must stay alive long enough for Calvin to find her.

The task is made even more complicated when Britt finds chilling evidence of a series of murders that have taken place there... and in uncovering this, she may become the killer's next target. But nothing is as it seems in the mountains, and everyone is keeping secrets, including Mason, one of her kidnappers. His kindness is confusing Britt. Is he an enemy? Or an ally?

BLACK ICE is New York Times bestselling author Becca Fitzpatrick's riveting romantic thriller set against the treacherous backdrop of the mountains of Wyoming. Falling in love should never be this dangerous…
Thank you to Simon and Schuster Australia for sending me a copy of this book in exchange for an honest review
I've been lucky to have come across so many good reads lately, and Black Ice is one of them. I was a fan of Becca Fitzpatrick's Hush Hush series, and consequently I had high expectations for this newest release. This YA mystery/thriller encompasses the classic elements of a book in the genre - a chilling (literally) setting, questionable characters and a plot that has many twists which give some satisfying surprises along the way.
When Britt goes on a backpacking trip with her best friend Korbie and the two get stranded on the mountain, they look towards a cabin to find help. Inside are Mason and Shaun, two older guys who immediately seem suspicious, however with nowhere else to turn in the harsh conditions the two have no choice. When the situation takes a harrowing turn and the two are held hostage, Britt and her friend are forced to think about their own survival. Britt's ex boyfriend Calvin is someone she hopes she can rely on, but even then she has the feeling that perhaps people are not all that they seem.
What I found interesting about Britt's character was that she turned out to not be as shallow as she appeared in the first few pages. While at the beginning she seemed like a stuck-up 'daddy's girl', she definitely changed and was resilient when the hostage situation came up. Not knowing whether she was going to live or die, she did make some perhaps misguided decisions regarding Mason, and there may have been some Stockholm syndrome going on at some points at least, even though she was adamant that would not happen. In all, there were some clues scattered throughout regarding the murder mystery places discovered and who the actual killer was, and while it was almost expected by that point, there were still some gritty moments.