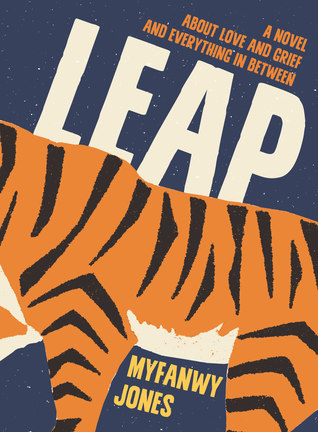 Leap
by
Myfanwy Jones
Released:
1st June 2015
Published by:
Allen and Unwin
Genre:
Adult Contemporary
Source:
Publisher
Pages:
336
My Rating:
4 of 5 stars
Goodreads
|
Bookworld
|
QBD
A few weeks after finishing their final exams high school sweethearts have an argument at a party. Joe wants to go - Jen begs him to stay. They fight in the corridor, following their usual script, and then he walks out and leaves her. A few hours later she dies. Three years on, after burning up his own dreams for the future, Joe is working in dead-end jobs and mentoring a wayward teenager not dissimilar from his younger self. Driven by the need to make good, he spends all his spare time doing parkour under an inner-city bridge, training his mind and body to conquer the hostile urban environment that took his love and blighted his future.

Somewhere else, a middle-aged woman, Elise, is treading water in her life as her marriage breaks up. We watch as she retreats to the only place that holds any meaning for her - the tiger enclosure at Melbourne Zoo, where, for reasons she barely understands, she starts painting the tigers and forms a close connection to them. Joe is broken by grief, but the outside world won't let him hide forever. A cool and bewitching girl turns up on the doorstep of his share house, somehow painfully familiar to him. Then there is the skateboarding chef at the bar where he works, the girl with the Cossack-blue eyes, who wants to be his friend. And someone going by the Facebook tag Emily Dickinson wants to reminisce about his dead girlfriend and won't leave him alone.

Can Joe staunch the flooding return of desire - or is it time to let go of the past? And will he make the nine-foot leap from girder to pillar or does he want to fall too? While at its heart is a searing absence,

Leap is driven by an unstoppable and exhilarating life force, and the eternally hopeful promise of redemptive love. Funny, moving, quirky and original, Leap is an effortlessly enjoyable novel that quietly creeps up on you until its final jaw-dropping pages and a narrative twist that will take your breath away.
Thank you to Allen and Unwin for sending me a copy of this book in exchange for an honest review
Leaving grief behind is a journey, and a difficult one at that. Though it is an inevitable aspect of the human experience, it is no less evocative than any other emotion. In fact, it can be the most poignant of all. It is this sentiment which Leap conveys - how grief is multifaceted and experienced in different ways, and how hope can shine through the cracks in ways which we might not see coming.
Everything about Joe's life had taken a negative turn after the death of his girlfriend Jen. There's a strain on his relationship with the rest of his family and he relies on his adrenaline-raising stunts to avoid his true feelings. I liked how there were some valuable lessons to be found in this book, the first being that grief is something which can't be simply pushed away without being confronted first. Joe's path towards a happier life is one with its own obstacles, mysteries and a touch of the supernatural which all converge to make this story one that is both moving and unique.
Another element of the novel which caught my attention was Elise's plight. Dealing with her own personal struggles and degraded marriage, she seeks solace in watching the tigers at the zoo. She draws them and is mesmerised by their sublime majesty - their fierceness and power. And here we find another important point - nature has a cathartic effect on us, and seeing how the animal kingdom operates with its natural order can help us understand ourselves. If we are only willing to take the leap, both literally and figuratively - then things may just get better and we can find peace with the present.
Profound - that's one word to describe how the whole story comes together, when the intricacies of the plotline are revealed in full. Though there were some points where the pace lagged, overall the beauty of this book is at its pinnacle when you have that light bulb moment when the fog clears and links are made which make so much sense. This is a satisfying read in the end that although not rigidly complete, offers a comforting sense of hope.
FINAL THOUGHTS

Leap is a contemporary novel rich with metaphors and meaning, offering powerful insight into grief and how it affects individuals differently.