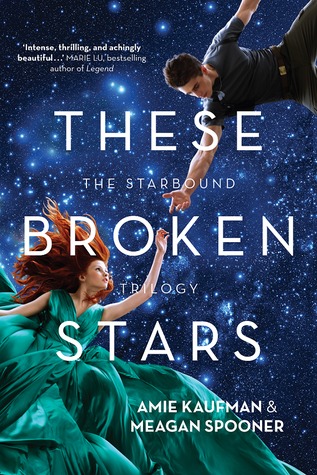 These Broken Stars
by
Amie Kaufman and Meagan Spooner
Released:
10th December 2013
Series:
Starbound #1
Published by:
Allen and Unwin
Genre:
YA Science Fiction
Source:
Bought
Pages:
374
My Rating:
4.5 of 5 stars
Goodreads
|
Bookworld
|
Book Depository
It's a night like any other on board the Icarus. Then, catastrophe strikes: the massive luxury spaceliner is yanked out of hyperspace and plummets to the nearest planet. Lilac LaRoux and Tarver Merendsen survive. And they seem to be alone. Lilac is the daughter of the richest man in the universe. Tarver comes from nothing, a young war hero who learned long ago that girls like Lilac are more trouble than they're worth. But with only each other to rely on, Lilac and Tarver must work together, making a tortuous journey across the eerie, deserted terrain to seek help.

Then, against all odds, Lilac and Tarver find a strange blessing in the tragedy that has thrown them into each other's arms. Without the hope of a future together in their own world, they begin to wonder - would they be better off staying in this place forever? Everything changes when they uncover the truth behind the chilling whispers that haunt their every step.

Lilac and Tarver may find a way off this planet. But they won't be the same people who landed on it. The first in a sweeping science fiction trilogy, These Broken Stars is a timeless love story about hope and survival in the face of unthinkable odds.
For a long time I had been seeing raving reviews for
These Broken Stars,
praising what could be the next big thing in the genre of YA Science Fiction. I had this book sitting on my shelf for so long, and I am so glad that now I have finally read it and have the sequel at my fingertips to once again delve into Amie Kaufman and Meagan Spooner's fantastic talent in creating a survival story set in space with an added mystery to truly captivate us readers as an audience.
It's not until he's out of sight that I let my eyes close, tipping my head against the tree at my back, imagining I can feel the gentle glow of the stars on my cheeks.
At the beginning,
These Broken Stars
may read like an interstellar version of The Titanic, but the tragic tale of the Icarus soon turns into a story of survival where the two very different characters of Lilac LaRoux and military hero Tarver Merendsen must learn how to live with each other and discover how to live on a newly terraformed planet where there is more to it than what first meets the eye.
But who names a starship the Icarus? What kind of man possess that much hubris, that he dares it to fall?
One particular aspect of the structure which I found interesting was the inclusion of interview segments in between both Tarver and Lilac's alternate perspective. This of course does contribute to your overall knowledge of the plot and its ultimate direction, however the bouts of sarcasm and witty comments on Tarver's behalf added to my enjoyment of the story. While it may have seemed slow in some places because it does solely focus on Tarver and Lilac's journey on the planet they crashed on, there were certainly some fascinating developments which I didn't see coming. In many ways in fact, because there were only two characters in this book for the vast majority, it made it even more obvious to see how they developed and changed as people in the midst of a crisis. Their bond that developed out of a difficult situation is one that I supported, although I suppose to say 'I ship them' in this case would be a tad ironic.
For a moment the image before us is frozen: our world, our lives, reduced to a handful broken stars half lost in uncharted space. Then it's gone, the view swallowed by the hyperspace winds streaming past, blue-green auroras wiping the after-images away.
Until all that's left is us.
It is undeniable that this book has some fantastic moments and wonderful prose. Many of the ideas conveyed in the story around surviving in an unfamiliar environment and finding hope in the most unlikely of places are quite conventional. What gave
These Broken Stars
that extra punch was the psychological aspect which was explored and played a much greater role in the novel than what I anticipated. The mystery surrounding the 'whispers' are a constant entity which made the pages fly by as I wanted to see what was going to happen next. There are shocks, and twists to be found, and while the ending may not have answered the entirety of my burning questions - I still found this book very enjoyable.
FINAL THOUGHTS
These Broken Stars
certainly didn't disappoint and I can't wait to read
This Shattered World.
Even though the sequel has a different character focus, if it's anything like this one I'm probably going to love it anyway!