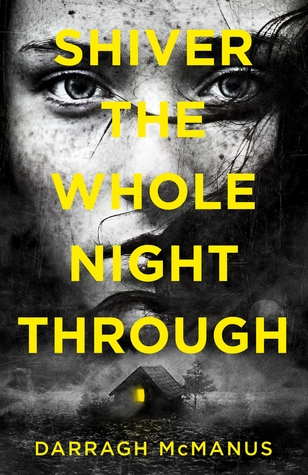 Shiver the Whole Night Through
by
Darragh McManus
Released:
6th November 2014
Published by:
Hot Key Books
Genre:
YA Mystery
Source:
Publisher
Pages:
337
My Rating:
2.5 of 5 stars
Goodreads
|
Bookworld
|
Book Depository
After months of bullying and romantic heartbreak, seventeen-year-old Aidan Flood feels just about ready to end it all. But when he wakes up one morning to find that local beauty and town sweetheart Sláine McAuley actually has, he discovers a new sense of purpose, and becomes determined to find out what happened to her.

The town is happy to put it down to suicide, but then one night Aidan gets a message, scratched in ice on his bedroom window: 'I didn't kill myself.' Who is contacting him? And if Sláine didn't end her own life... who did?
Thank you to Five Mile Press Australia for sending me a copy of this book in exchange for an honest review
Shiver the Whole Night Through didn't quite tick all the boxes for me, but the chilling setting in the woods and Irish influence, along with a darker paranormal twist towards the end did give it some positive points.
Unfortunately one of the reasons why I didn't rate this book higher was Aidan's character and the narratorial voice. While I can understand that writing with his colloquialisms made him more of a realistic teenager in his situation, I did find that his attitude towards his peers and the situation itself was irritating at times. He didn't exactly appreciate his friends or had much respect for the ones who had died, which irked me - though I do get the feeling that perhaps he wasn't 'meant' to be likable in the first place. In any case, I'd leave that one to you to decide if you get to reading this book.
The woods were more than a collection of trees and wildlife: they were some kind of eerie dreamscape, a hellish netherworld into which I'd been drawn. Mysterious, ambivalent, unreal, yet strangely comforting too. The forest, I remember someone writing once, was everything those fairy tales made you feel.
What I did find interesting was the Irish cultural references and glimpses into their history. It's not very often that I've come across novels with this setting, and in combination with the site o
f Sláine's death being in the creepy Shook Woods I could tell where the author was coming from in setting the ominous atmosphere. There's even a guide to the pronunciation of Irish Gaelic words on the first page which was helpful and showed that there was research that had gone into this book to try and make this aspect authentic.
The paranormal element didn't quite work for me, and the romance seemed to come out of nowhere. Nonetheless, what saved the ending was the darker twist which I wasn't expecting, and the folklore came to life. By the end although I was glad that I'd finished it, this book still was able to portray an eeriness and space for you to wonder where Aidan and
Sláine would end up next.