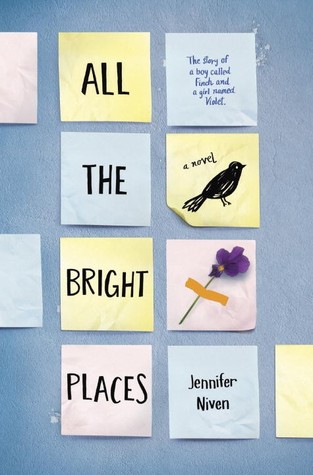 All The Bright Places by Jennifer Niven
Released:
6th January 2015
Published by:
Penguin
Genre:
YA Contemporary
Source:
Publisher
Pages:
384
My Rating:
4.5 of 5 stars
Goodreads
|
Bookworld
|
The Book Depository
The Fault in Our Stars meets Eleanor and Park in this compelling, exhilarating, and beautiful story about a girl who learns to live from a boy who intends to die.

Theodore Finch is fascinated by death, and he constantly thinks of ways he might kill himself. But each time, something good, no matter how small, stops him.

Violet Markey lives for the future, counting the days until graduation, when she can escape her Indiana town and her aching grief in the wake of her sister's recent death. When Finch and Violet meet on the ledge of the bell tower at school, it's unclear who saves whom. And when they pair up on a project to discover the "natural wonders" of their state, both Finch and Violet make more important discoveries: It's only with Violet that Finch can be himself—a weird, funny, live-out-loud guy who's not such a freak after all. And it's only with Finch that Violet can forget to count away the days and start living them.

But as Violet's world grows, Finch's begins to shrink. This is an intense, gripping novel perfect for fans of Jay Asher, Rainbow Rowell, John Green, Gayle Forman, and Jenny Downham from a talented new voice in YA, Jennifer Niven.
Thank you to Penguin Teen Australia for sending me an ARC of this book in exchange for an honest review
Although All The Bright Places didn't affect me to the point of complete heartbreak and devastation, its emotional poignancy and moving storyline is one which I feel privileged to have immersed myself in. With this powerful novel, Jennifer Niven has cemented herself as an author to watch in the YA scene, as she sure knows how to write something that is not only a fantastic piece of fiction, but one that seems so realistic at the same time.
I wonder what it's like to walk down the street, safe and easy in your skin, and blend right in. No one turning away, no one staring, no one waiting and expecting, wondering what stupid, crazy thing you'll do next.
This is undeniably a character-driven novel, and both Violet and Theodore have so much depth to their personalities which is explored. While Violet is still recovering after the death of her sister Eleanor and trying to come to terms with living while she is not, Theodore is forever on the cusp of leaving his 'Awake' state and going somewhere darker. When their geography project brings them together to explore Indiana, its clear that they did have much more to learn from the natural world and each other than either of them could have at first thought. With alternating POV's, Niven is able to provide a unique insight into each of their mindsets and how they evolve.It was interesting to see not only how they responded to the challenges in their lives, but how their parents did also. This provided a more holistic interpretation of grief and how our families really can have an impact on our personal wellbeing.
When you're infamous and invincible, it's hard to picture being anything but awake, but I make myself concentrate because this is important - it's life or death.
Another thing which I really appreciated in the novel was the fact that while the events which unfolded spanned from serious, to comical and then dramatic - the writing style was never pretentious. At times with contemporary novels dealing with these deep issues of cancer, mental health and suicide in particular, the 'flowery language' of the prose may take away from the effect of the message. What Jennifer Niven was able to do in this case is subtly tell this story through two characters who could be real because the way she has written it allows us to imagine them so. Finch's idiosyncrasies of calling Violet 'Ultraviolet Remarkey-able' and the inclusion of the post-it notes are just two examples of how this book has its quirks which you just can't help but admire. In all, Niven writes with an ease which captures you from the very first page.
For once, I don't want to be anyone but Theodore Finch, the boy she sees. He understands what it is to be elegant and euphoric and a hundred different people, most of them flawed and stupid, part asshole, part screwup, part freak, a boy who wants to be easy for the folks around him so he doesn't worry them and, most of all, easy for himself.
FINAL THOUGHTS
All The Bright Places
may have been compared to the likes of John Green and Rainbow Rowell to hype it up, but rest assured that it can stand quite firmly on its own merits. This is a book that will certainly be a success when it is released next year, and I would definitely recommend it to contemporary YA fans who are looking for the 'next big thing' to hit the shelves.