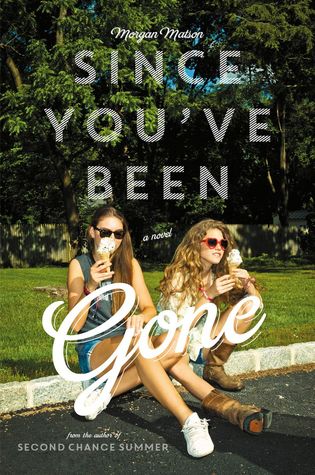 Since You've Been Gone
by
Morgan Matson
Released:
6th May 2014
Published by:
Simon and Schuster
Genre:
YA Contemporary
Source:
Publisher
Pages:
449
My Rating:
4 of 5 stars
Goodreads
|
Bookworld
|
Book Depository
Emily is about to take some risks and have the most unexpected summer ever in this new novel from the bestselling author of Second Chance Summer and Amy and Roger's Epic Detour.

Before Sloane, Emily didn't go to parties, she barely talked to guys, and she didn't do anything crazy. Enter Sloane, social tornado and the best kind of best friend—someone who yanks you out of your shell. But right before what should have been an epic summer, Sloane just…disappears. No note. No calls. No texts. No Sloane. There's just a random to-do list with thirteen bizarre tasks that Emily would never try. But what if they can lead her to Sloane? Apple picking at night? Okay, easy enough. Dance until dawn? Sure. Why not? Kiss a stranger? Wait…what? Getting through Sloane's list will mean a lot of firsts, and with a whole summer ahead of her—and with the unexpected help of the handsome Frank Porter—who knows what she'll find.

Go Skinny Dipping? Um…
Thank you to Simon and Schuster Australia for sending me a copy of this book in exchange for an honest review


Morgan Matson's
Since You've Been Gone
is definitely a YA contemporary read that takes you on a journey. Tackling a list left by her best friend that simply disappears, Emily Hughes who had long been in Sloane's shadow finally stepped out of the dark and into her own as she becomes braver, bolder and more of an individual with each of the thirteen challenges. It was enjoyable to read about her story and how she changed as a person with every new experience. Existing fans of this author are sure to love this new release, and I'm sure it will attract some new attention as well.
One of my favourite aspects of the novel was Emily's overall character development. You could tell that in the beginning her identity was tied up with Sloane's and the two came as a 'package deal' per se. By the end it was evident that she had truly become her own person and was confident enough within herself and the new friends she had made to be happy. Of course, the list left by Sloane in the mysterious envelope was what spurred this change on, and with most of the chapters being based on Emily attempting to tick off the items, the story flowed really well. I feel like by the time I finished the book I had gotten a good sense of the essence of Emily's character who was complex and interesting. Sloane, although not a major part of the book for the most part, also had her time to shine in some of the flashbacks and seeing how her and Emily's friendship developed added further depth and background to the story. What the author revealed about her true nature accounted for a lot of her seemingly confident and flamboyant behaviour, showing that even the most perfect-
seeming
people are not without their own issues.
This story wasn't just about these two though, and in fact the secondary characters were similarly well thought-out and had their own role to play. Emily's family for a start with her two playwright parents and a quirky brother had a presence, and her friends Collins, Dawn and Frank were great to read about. The dynamics of their bonds shifted and changed throughout the course of the novel, and although Frank and Emily's developing relationship was a tad predictable, the dramatic irony of it all made the whole thing quite sweet. The inclusion of the music playlists not only offer some song suggestions to the reader, but were a reflection of both Frank and Emily's characters when they went on their running sprees. There were some funny moments here and there, but when it came to facing the issues at hand those were dealt with realistically as well.
FINAL THOUGHTS
In all, I would certainly recommend
Since You've Been Gone
to anyone looking for a fun contemporary read that has well developed characters and a fun storyline. It's a story about stepping out of your comfort zone, being an individual and the effort involved in keeping true friends who you wish to keep for as long as you can.