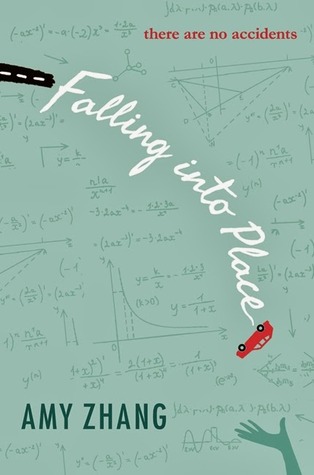 Falling Into Place
by
Amy Zhang
Released:
9th September 2014
Published by:
HarperCollins
Genre:
YA Contemporary
Source:
Publisher
Pages:
296
My Rating:
5 of 5 stars
Goodreads
|
Bookworld
|
Book Depository
On the day Liz Emerson tries to die, they had reviewed Newton's laws of motion in physics class. Then, after school, she put them into practice by running her Mercedes off the road.

Why? Why did Liz Emerson decide that the world would be better off without her? Why did she give up? Vividly told by an unexpected and surprising narrator, this heartbreaking and nonlinear novel pieces together the short and devastating life of Meridian High's most popular junior girl.

Mass, acceleration, momentum, force—Liz didn't understand it in physics, and even as her Mercedes hurtles toward the tree, she doesn't understand it now. How do we impact one another? How do our actions reverberate? What does it mean to be a friend? To love someone? To be a daughter? Or a mother? Is life truly more than cause and effect?

Amy Zhang's haunting and universal story will appeal to fans of Lauren Oliver, Gayle Forman, and Jay Asher.
Thank you to HarperCollins Australia for sending me a copy of this book in exchange for an honest review
From the very first page of 'Falling Into Place' I just had that feeling that it was going to be heartbreaking, but so well written. Emotionally powerful and utterly captivating, this debut is definitely one of my favourites of the year. Going into it, you know that something bad is going to happen, and with every passing chapter it becomes more apparent why Liz Emerson had continued on a downward spiral towards her own demise.
By the end, she was just another girl stuffed full of forgotten dreams, until she crashed her car and she wasn't even that.
From its premise I knew that this book was going to be dark and hard-hitting, but I don't think I was truly prepared for just how moving it turned out to be. Liz's story, the one where the most popular girl in Meridian High finds reason to end her life, is one that is just so sad. The whole novel itself is written in prose where each sentence is delicately constructed to give the most impact. Everything from the titles of the chapters to the little snapshots in between, to the memories of her life with her best friends Julia and Kennie is so expertly woven to create this story. I haven't read a book that is written so poignantly in a long time.
She finally figured out that she, Liz Emerson, was the equal and opposite reaction. She was the consequence. She pushed down on the gas pedal.
The science element with the laws of physics also came into play, which added those extra pieces of symbolism which brought the whole book together. All of the characters are complex and developed; each with their own challenges and ways in which Liz had interacted in their lives. Liz of course is perhaps the most enigmatic of all. The girl who supposedly had the social hierarchy as her oyster was the one who was the most broken. This books makes you appreciate the ones around you, and your closest friends who you care about. I found its message to be to look out for the ones we love, and always be there for them, even when things seem to be going well.
FINAL THOUGHTS
'Falling Into Place' is an unforgettable and haunting contemporary debut from an author who I can't wait to read more from. This novel is devastating in its content, but beautifully written to express such profound emotions within its pages. With this piece, Amy Zhang has earned her place among the authors with the biggest reputations in this genre, and I dare say her talent surpasses even theirs.