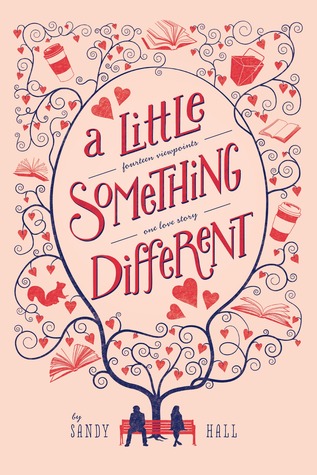 A Little Something Different
by
Sandy Hall
Released:
26th August 2014
Published by:
Pan Macmillan
Genre:
YA Contemporary
Source:
Publisher
Pages:
272
My Rating:
3.5 of 5 stars
Goodreads
|
Bookworld
|
Book Depository
The creative writing teacher, the delivery guy, the local Starbucks baristas, his best friend, her roommate, and the squirrel in the park all have one thing in common—they believe that Gabe and Lea should get together. Lea and Gabe are in the same creative writing class.

They get the same pop culture references, order the same Chinese food, and hang out in the same places. Unfortunately, Lea is reserved, Gabe has issues, and despite their initial mutual crush, it looks like they are never going to work things out. But somehow even when nothing is going on, something is happening between them, and everyone can see it. Their creative writing teacher pushes them together. The baristas at Starbucks watch their relationship like a TV show. Their bus driver tells his wife about them. The waitress at the diner automatically seats them together. Even the squirrel who lives on the college green believes in their relationship.

Surely Gabe and Lea will figure out that they are meant to be together.....
Thank you to Pan Macmillan Australia for sending me a copy of this book in exchange for an honest review
Written in an unconventional style,
A Little Something Different
is a cute and fun YA contemporary romance that is great for reading on a lazy Sunday afternoon. With fourteen different perspectives focusing on the developing relationship between this one couple, it was certainly a different experience to have a voyeuristic insight into Lea and Gabe's lives as they converged in many small ways.
What gives this book its unique edge of course lies in the structure. Instead of experiencing things from the main characters' point of view, you instead are on the outside looking in from various aspects. Some of my favourites were definitely Maxine who worked at Starbucks and the creative writing professor Inga. I guess you'd never really think about how one pending relationship could cause so much speculation, and it was great to get into the minds of the people around Lea and Gabe to see how their reactions changed as their bond progressed.
They sit there in the window of the coffee shop for almost an hour, not talking much, but looking at each other over the tops of their books, flirting somehow even without words.
In some ways, I found this novel is more about the secondary characters who are narrating the novel than Lea and Gabe themselves, who for this reason I couldn't really connect with. There was some depth in their story as you find out a little more about their backgrounds, but I feel that some of their substance was diluted because of the nature of the story itself. This is in essence a light read, though there were a few deeper issues which I feel could have been touched upon more to give it some greater depth.
FINAL THOUGHTS
If you want to hear about a sweet love story set based in a creative writing class in college told in a different way, then this book should appeal to you. With perspectives varying from a bench, a bus driver, and even a squirrel, this is book that is (excuse the pun)
A Little Something Different
than any contemporary romance I have read before!