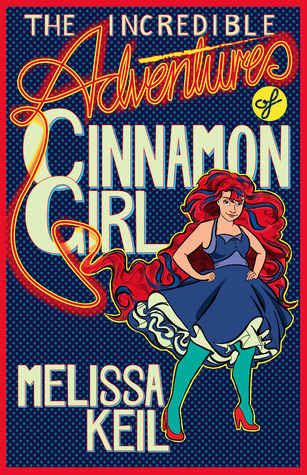 The Incredible Adventures of Cinnamon Girl
by
Melissa Kiel
Released:
1st September 2014
Published by:
Hardie Grant Egmont
Genre:
YA Contemporary
Source:
Publisher
Pages:
294
My Rating:
3.5 of 5 stars
Goodreads
|
Bookworld
|
Book Depository
Alba loves her life just as it is. She loves living behind the bakery, and waking up in a cloud of sugar and cinnamon. She loves drawing comics and watching bad TV with her friends.

The only problem is she's overlooked a few teeny details: Like, the guy she thought long gone has unexpectedly reappeared. And the boy who has been her best friend since forever has suddenly gone off the rails. And even her latest comic-book creation is misbehaving. Also, the world might be ending – which is proving to be awkward. As Doomsday enthusiasts flock to idyllic Eden Valley, Alba's life is thrown into chaos.

Whatever happens next, it's the end of the world as she knows it. But when it comes to figuring out her heart, Armageddon might turn out to be the least of her problems.
Thank you to Hardie Grant Egmont for sending me a copy of this book in exchange for an honest review


This is my first read from Melissa Kiel, and I found it to be an enjoyable one. With a main character who has a strong sense of self, different twist to an otherwise contemporary storyline and nice integration of some comic references,
The Incredible Adventures of Cinnamon Girl
is sure to appeal to new and existing fans alike.
This novel is something a little different than what I would usually pick up, and from the beginning Alba's voice drew me in. Written in a casual style, you immediately get a sense of the type of person she is. She's got the curves and isn't afraid of that, but wouldn't let just any boy charm her off her feet. Her best friend Grady was sweet, and you could tell that even when their friendship had their ups and downs they were still close. Some of her friends in Eddie and Caroline added that extra bit of quirky to the plot, along with the looming 'end of the world' hype thanks to crazy Ned. The author really captured the essence of the small town in Eden Valley, however perhaps it would have been nice to look further into Alba's backstory and family life, along with those of her friends.
The comic element was scattered throughout the plot as Alba attempted to develop Cinnamon Girl, which almost acted as a reflection of herself. When Daniel, one of her previous best friends who moved out of the town to become a soap star, comes back into the picture things do start to get interesting. At first his motives are questionable, and by the end I still wasn't really sure of what purpose he truly served. The storyline did seem a tad predictable at times, although there was a small twist which throws a small spanner in the works. On the whole though, I enjoyed seeing how Alba developed as a character and how she and the young people around her had to decide where to go after leaving the nostalgic period when school ends and it's time to enter the real world.
FINAL THOUGHTS
I liked my first experience reading something by Melissa Kiel, and I'm now eager to read her other novel
Life in Outer Space
.