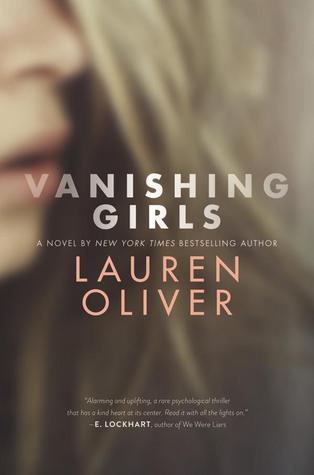 Vanishing Girls
by
Lauren Oliver
Released:
10th March 2015
Published by:
Hodder and Stoughton
Genre:
YA Psychological Thriller
Source:
Publisher
Pages:
324
My Rating:
4.5 of 5 stars
Goodreads
|
Bookworld
|
Book Depository
New York Times bestselling author Lauren Oliver delivers a gripping story about two sisters inexorably altered by a terrible accident.

Dara and Nick used to be inseparable, but that was before the accident that left Dara's beautiful face scarred and the two sisters totally estranged. When Dara vanishes on her birthday, Nick thinks Dara is just playing around. But another girl, nine-year-old Madeline Snow, has vanished, too, and Nick becomes increasingly convinced that the two disappearances are linked. Now Nick has to find her sister, before it's too late.

In this edgy and compelling novel, Lauren Oliver creates a world of intrigue, loss, and suspicion as two sisters search to find themselves, and each other.
I won an ARC of this book from Hachette Australia
Vanishing Girls is a poignant, and at times disconcerting psychological thriller which explores the intricacies of a sisterly dynamic alongside a mystery which is just as enthralling. This is truly an addictive read, and Lauren Oliver has won me over with her debonair writing style combined with a storyline which is both intelligent and thought-provoking.
Even though it was often the three of us, he was my best friend, my giggle-till-you-snarf-soda, my antidote-to-boredom, my talk-about-nothing person. And for once Dara was mine too. For once, I was the apex of the triangle, the high point that kept the whole structure together.
Until once again Dara had to be on top.
There almost seems to be two separate plot points going on in this novel - Dara and Nick's complex power-struggle, and the disappearance of Madeleine Snow. However, once you read on and these events converge there is so much more depth and intrigue which I found (and if you wanted to get psychoanalytical I'm sure there are some Freudian influences too). From the very beginning, I was drawn into the minds of these two sisters - who did seem so loving, so caring and so bonded together in a way that only close siblings can be. Yet, as their differences came forward and their relationship more constrained and toxic - it was fascinating to read about how this fit in to the scope of their family life and with their mutual friend Parker. There's always something undeniably alluring about a book with characters that are less than perfect, and Vanishing Girls is no exception.
Sometimes people stop loving you. And that's the kind of darkness that never gets fixed, no matter how many moons rise again, filling the sky with a weak approximation of light.
What lifted this novel to another level was the incorporation of different mediums to create the sense of brewing danger for both girls and the urgency to 'find' them. From emails, Dara's diary entries and pieces from the 'Shoreline Blotter' delivering news in a no-nonsense format with some creepy comments, the tension was taut and palpable at every moment. These intense sections were in part broken up by Nick's taste of normalcy at her new FunLand job, but overall the tone was quote somber.
I run, breath high in my throat, heart hammering against my ribs. I hear my name, shouted again and again, until it becomes meaningless: just the wind, or the sound of the ocean, beating invisibly, ceaselessly, somewhere far off in the distance.
Another interesting aspect of the story was the split in time periods 'before' and 'after' the car accident which changed the lives of Nick and Dara irrevocably. There are just so many elements to the book itself, making it multifaceted and almost like a sinister present which you need to carefully unwrap. The familial dynamic was also in there with its own set of issues, a psychologist had their say, and my head was spinning in some ways as I was disoriented at times with all that was going on. Despite this, after giving it some thought I found this technique to be a smart one as it really ensured that I DID NOT SEE THAT TWIST COMING, BUT WOW. Although in hindsight it should have been obvious, it was well executed and there was a logical explanation which was good.
Don't ask me how I know. I just do. If you don't understand that, I guess you've never had a sister.
FINAL THOUGHTS
Vanishing Girls
delivers exactly what it promises - a beguiling mystery which will pull you in with the more you read. I can't wait to see what Lauren Oliver releases next because this book has some wow-factor which we're all looking for in a fantastic thriller.