You can read my review of
A Breath of Frost
, the first book in the series
here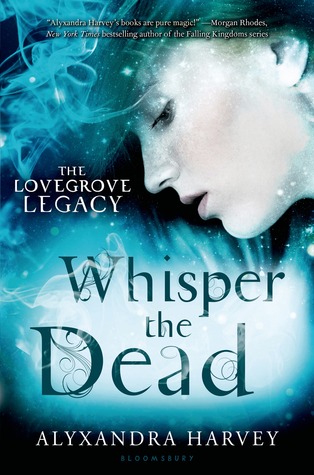 Whisper the Dead
by
Alyxandra Harvey
Released:
7th October 2014
Series:
The Lovegrove Legacy #2
Published by:
Bloomsbury
Genre:
YA Historical Fantasy
Source:
Publisher
Pages:
397
My Rating:
4 of 5 stars
Goodreads
|
Bookworld
|
The Book Depository
Cousins Gretchen, Emma, and Penelope are all dealing with what it means to be a Lovegrove. For Gretchen, it means she often feels like her head is going to explode. As a Whisperer, Gretchen constantly hears the whispers of other witches' spells. And while this does help her to know when one of her own spells is going wrong, the incessant buzzing and pain the whispers cause makes it difficult to use her gift.

But when something evil begins to menace Mayfair, Gretchen must find a way to master her power. Along with her cousins, a madcap named Moira, and the icy yet irresistible Tobias Lawless, Gretchen faces deadly threats and unimaginable loss in the hopes of preventing the terrible Greymalkin Sisters from rising again.

The second book in The Lovegrove Legacy trilogy, Whisper the Dead will leave readers spellbound.
Thank you to Bloomsbury Publishers Australia for sending me a copy of this book in exchange for an honest review
In the sequel to A Breath of Frost, this book delivers the same great characters, witty banter and magical world set in 19th century London. Full of vivid descriptions, and with a plot that leaves you asking questions about what may be behind the magical mayhem sweeping the city, Whisper the Dead will not disappoint existing fans of this series so far.
She could tell anyone, despite her promise not to. The word of a reckless debutante who was always at the wrong place at the wrong time was a tenuous guarantee at best.
What I love about this series is how it takes the concept of witches and turns it into something away from the cliched stereotypes. In this case, it's not about witches and warlocks exactly, but still exudes that fantasy vibe which is enchanting to read about. The world that Alyxandra Harvey has created is depicted vibrantly with descriptions of how life worked generally back in those times, mixed in with the magical element which was developed worked really well. This book has more of a focus on Gretchen out of the cousins, and I felt it was great to see more of her and delve into her sassy and slightly rebellious attitude. She really came into her own in this book, learning more about her powers as a whisperer and working together with Emily and Penelope to uncover what the Greymalkin Sisters may still have power over.
Aside from the lovely family bond shared between the girls, there was also more romance in this book than the first one. Not only has Cormac and Emma's relationship started to develop more *cue swooning*, but there are also a couple more potential love interests who are part of the Order. This series balances the action of the plot with the romantic aspect really well, and I loved seeing how Gretchen and Tobias started to explore some developing feelings for each other too. The cute banter between them combined with the fact that Gretchen is still a strong character on her own and wants to succeed on her own merits in the magic world is admirable. This is a story of bravery, sacrifice and using your power for good to restore the magic balance in their world.