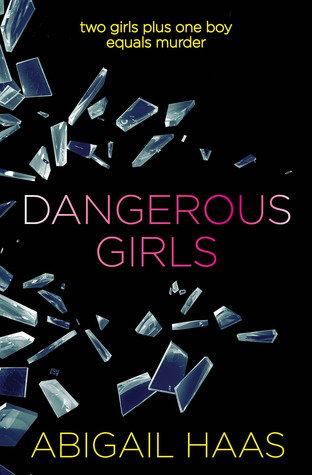 Dangerous Girls
by
Abigail Haas
Released:
1st August 2013
Genre:
YA Thriller
Source:
Bought
Pages:
388
My Rating:
5 of 5 stars
Goodreads
|
Bookworld
|
Book Depository
Elise is dead. And someone must pay.

Anna, her boyfriend Tate, best friend Elise and a group of close friends set off on a debaucherous Spring Break trip to Aruba. But paradise soon turns into a living nightmare when Elise is brutally murdered. Soon Anna finds herself trapped in a foreign country and fighting for her freedom. As she awaits the judge's decree, it becomes clear that everyone is questioning her innocence.

To the rest of the world, Anna isn't just guilty, but dangerous. As the court case unfolds the truth is about to come out, and it's more shocking than you could ever imagine...
I should have known that this book would be a shocker, but I don't think anything could have prepared me for how stunned I ended up being once I turned the final page. Abigail Haas has taken a murder mystery and moulded it into something else with so much more to it. This isn't just your cliched 'whodunnit' mystery, but a twisted and tenacious bricolage that will leave you guessing until its final staggering conclusion.
This is a very accurate representation of my reaction straight after finishing Dangerous Girls
Memory and imagination are only a knife edge apart, and I wonder if I'm making it all up: slipping false memories in among the real ones, just to have something to hold on to. Fool's gold.
In the seemingly idyllic tropical paradise of Aruba, Anna's best friend Elise is found brutally murdered, stabbed to death. As the court case continues and Anna is seen as the prime suspect, she will do anything to prove that it wasn't her that did it. Her boyfriend Tate and their other friends AK, Chelsea and the clingy Mel only wanted to have a good time and let loose once school had finished. In reality, this one holiday of potential bliss had turned into a nightmare for all involved.
One moment. One picture. One glimpse - that's all it takes to make someone think they know the truth.
When a book has a plot as fascinating and enthralling as this one, combined with a punchy writing style to match, you'll find that there are a lot of 'quotable quotes'. Abigail Haas has done a fantastic job in making this story poignant and memorable, fitting in so many different textual elements. There are excerpts from interviews between Anna and detectives, text messages between her and Elise, flashbacks covering how they became friends and how their bond developed, and even a floor plan of the house they were staying in where the brutal murder occurred. All of these things flow seamlessly and add to the authenticity of the issue at hand. Both Anna and Elise's characters in particular were extremely complex, and the author made sure that us readers could understand the differences in their personalities and back stories which make them so multifaceted.
I was the partner-in-crime she'd been waiting for: a hand to hold as she ran, laughing, away from the ivy-covered gates she's been gazing over her entire life. And Elise...She was my catalyst. The glint in my eye, the giddy thrill in my stomach, the voice urging me to be louder, bolder, to blend into the background no more.
Anna and Elise's relationship in itself, while she was still alive of course - was almost cloying in itself. The two of them seemed to be bordering on something more than just friends, and their bond at some times even seemed toxic. Flawed characters are what I love to read about in a good thriller, because it makes all the mystery of it all that much more gripping. That's not to say that the other characters didn't have their part to play, as while their roles may not have been at the forefront of the investigation the whole time, it was good to see that they still had their own qualms and mannerisms which have an impact on the final verdict.
You see? How simple it is, how one little piece of information changes everything. How it all just falls into place.
Betrayal.
The 'then and now' aspect of the story was one I really liked. As well as understanding the dynamics of their friendship group as a whole with bouts of reckless behaviour and drunken escapades, contrasting those moments of freedom with the courtroom drama was a smart decision. The lawyers taking the stand to plead their cases, evidence coming to light and new revelations coming into the picture all the time, really makes you question who truly was responsible. As more of Anna's friends took the witness stand, I really didn't know what was going to happen next. This book is intelligent in itself; it forces you to consider every single possibility with red herrings and even more twisted possible situations abound. I was dragged into this story, got caught up in the sheer brilliance of it all and came out the other side knowing that I'd read something undeniably striking.
Wouldn't we all look guilty, if someone searched hard enough?
FINAL THOUGHTS
Dangerous Girls
is one of the best thrillers I've read in a while. Reminiscent of a YA version of 'Gone Girl', it pulls all the stops and will blow your mind. If you're a fan of Rebecca James, Megan Abbott or are just looking for a book that will keep you guessing - this is one you don't want to miss.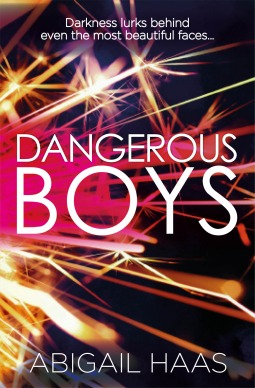 Dangerous Boys
by
Abigail Haas
Released:
14th August 2014
Genre:
YA Thriller
Source:
Publisher
Pages:
336
My Rating:
4 of 5 stars
Goodreads
|
Bookworld
|
Book Depository
It all comes down to this. Oliver, Ethan, and I.

Three teens venture into an abandoned lake house one night.Hours later, only two emerge from the burning wreckage. Chloe drags one Reznick brother to safety, unconscious and bleeding. The other is left to burn, dead in the fire. But which brother survives? And is his death a tragic accident? Desperate self-defense? Or murder ...? Chloe is the only one with the answers.

As the fire rages, and police and parents demand the truth, she struggles to piece the story together - a story of jealousy, twisted passion and the darkness that lurks behind even the most beautiful faces ...
Thank you to Simon and Schuster Australia for sending me a copy of this book in exchange for an honest review
Dangerous Boys is a deep abyss of slowly creeping eeriness which eventually manifests itself as a puzzle that is complete and captivating. Alternating between the 'then', 'now' and 'the end', Abigail Haas has once again showcased her talent as an author by weaving a story which we all know will end badly - it's only a matter of how. While Dangerous Girls still remains my favourite of hers, this novel still has the shock factor and contains equally twisted characters who push things to breaking point.
Our lives are made up of choices, you see. Big ones, small ones, strung together by the thin air of good intentions; a line of dominoes, ready to fall.
After reading Dangerous Girls, and now this - I've come to know and love Abigail Haas' writing style. She travels effortlessly in time to demonstrate how one thing can lead to another and finally all come crashing down. The crescendo builds slowly yet surely over the course of the book - until inevitably tensions finally explode into a fireworks of emotions erupting to form the most destructive result.
Stop pretending. Stop hiding. Stop being the girl they all said you should be.
Imagine that freedom. God, can't you feel it?
What harm could it do?
In this case, Chloe, Ethan and his brother Oliver have a unique dynamic of their own which teeters towards the edge of falling apart as they walk the tightrope of crossing lines and Chloe must choose who she really wants to be. Left in the small town she's been trying to escape since she dreamt of the freedom of the cities and the opportunities they could bring her, Ethan is who, at least for a time, convinces her to stay. However, when the darker, more enigmatic older brother Oliver comes onto the scene, Chloe soon begins to wonder whether she was really being true to herself; or if there was a darkness lurking within her which she didn't even know existed.
Who was I when nobody was looking? Without judgement, without expectations. Without somebody to please. That was why he'd brought me, I realized; that was why Oliver had put the gun in my hands and pointed me here. To see who I was, away from it all.
To know the real me.
This is one of those novels which skips back and forwards, giving you tantalising glimpses into the final reveal while also unfurling what led to it. Instead of there being a single, monumental discovery, in Dangerous Boys there are several smaller ones that still leave you reeling. There is a love triangle of sorts, but not in the traditional sense as such. In this case, instead of finding it an annoyance to the story, it serves a purpose and is in fact essential to the plot. This is a novel of choices and how one move can end so, so badly. Aside from the main plot there are a few sub-plots, each with their own way of illustrating the inherent flaws in human nature and the different ways in which they can come to light: jealousy, malevolence and unflinching desire to get what you want.
FINAL THOUGHTS
There is only so much that can be said about
Dangerous Boys
without giving the story away, but I will say this: you might think you know what's coming - but still be prepared to be surprised. I'm now a committed fan of Abigail Haas' work, and will definitely be looking out for whatever she decides to write next.