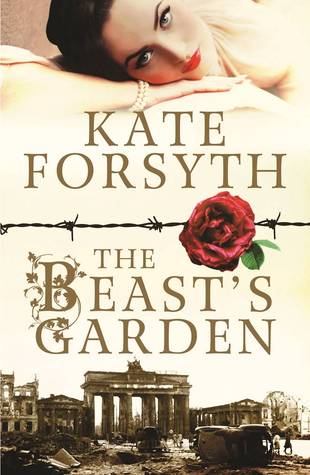 The Beast's Garden
by
Kate Forsyth
Released:
3rd August 2015
Published by:
Random House Australia
Genre:
Historical Fiction/Retellings
Source:
Netgalley
Pages:
512
My Rating:
5 of 5 stars
Goodreads
|
Dymocks
|
Bookworld
A retelling of The Beauty and The Beast set in Nazi Germany.

The Grimm Brothers published a beautiful version of the Beauty & the Beast tale called 'The Singing, Springing Lark' in 1819. It combines the well-known story of a daughter who marries a beast in order to save her father with another key fairy tale motif, the search for the lost bridegroom. In 'The Singing, Springing Lark,' the daughter grows to love her beast but unwittingly betrays him and he is turned into a dove. She follows the trail of blood and white feathers he leaves behind him for seven years, and, when she loses the trail, seeks help from the sun, the moon, and the four winds. Eventually she battles an evil enchantress and saves her husband, breaking the enchantment and turning him back into a man.

Kate Forsyth retells this German fairy tale as an historical novel set in Germany during the Nazi regime. A young woman marries a Nazi officer in order to save her father, but hates and fears her new husband. Gradually she comes to realise that he is a good man at heart, and part of an underground resistance movement in Berlin called the Red Orchestra. However, her realisation comes too late. She has unwittingly betrayed him, and must find some way to rescue him and smuggle him out of the country before he is killed.

The Red Orchestra was a real-life organisation in Berlin, made up of artists, writers, diplomats and journalists, who passed on intelligence to the American embassy, distributed leaflets encouraging opposition to Hitler, and helped people in danger from the Nazis to escape the country. They were betrayed in 1942, and many of their number were executed.

The Beast's Garden is a compelling and beautiful love story, filled with drama and intrigue and heartbreak, taking place between 1938 and 1943, in Berlin, Germany.
Thank you to Random House Australia for sending me a copy of this book via Netgalley in exchange for an honest review
The Beast's Garden took me on an emotional journey from beginning to end, with a suite of dynamic characters and a series of events which left me reeling. I'm no stranger to Kate Forsyth's retellings, and after loving both Bitter Greens and The Wild Girl - the bar was set high. However, in this case she has once again accomplished what she does best in producing a beautifully crafted novel which explores the both the horrors and inner circle of the Nazi regime with a romance that is complex and believable. There's both a charm and a provoking insight into humanity which comes through in this novel, making it one anyone could enjoy.
I feel sure that there is goodness in the world, and it's not murder and brutality and force, it's not boots stamping and fists smashing and laughing at people's pain. It's...oh it's kindness and gentleness and trying to understand.
Though the links with fairytales such as the typical 'Beauty and the Beast' story and of course 'The Singing, Springing Lark' original are quite subtle, they still came through. The excerpts from the Grimm Brothers' story in places gave poignant meaning to the already tense drama unfolding as Ava battles to straddle the line between keeping her own family safe and helping her Jewish family friends too. Leo is the Nazi officer who is not out for blood or vengeance like the others, and instead is part of the resistance movement. This is no conventional love story, and the vivid setting provided ample opportunity to explore how, even in a regime characterized by repression and terror - people still fought back.
We are approaching the end with a sense of community, which is possible only in the face of death. Without sorrow, without bitterness. I also know now about the last things of faith, and I know that you are strong and joyful in the awareness of eternal solidarity.
The multiple perspectives and strong cast of secondary characters gave this story even more depth. From seeing what it was like in a concentration camp to the upper echelons of Nazi German society where not everybody is as they seem, I felt like this multifaceted novel had both characterisation and historical detail brilliantly done. Most of all though, I admired Ava's character. Her strength throughout and ability to accomplish the seeming impossible was inspiring. She wasn't just a singer, but an advocate of hope and made the best out of the most difficult situations. There is so much more to be said about The Red Orchestra and how everything ended up, but of course that is for you to find out when your read this masterpiece.
You have to live with honour...you have to have courage...' He compressed one side of his mouth into a half-smile, more rueful than bitter. 'You of all people know that, my brave Ava.'
FINAL THOUGHTS
Intensely emotional and stunningly written,
The Beast's Garden
is a must-read for 2015. It has definitely made an impact on me, and I couldn't stop thinking about it for days afterwards, If you're a historical fiction fan and love an enthralling story, then this is for you. You won't regret it.