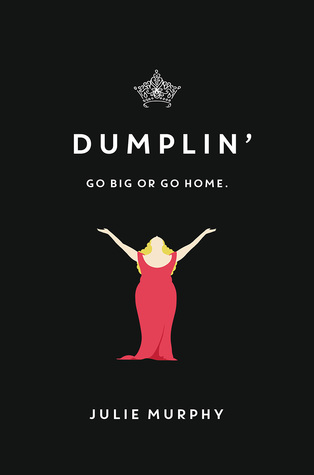 Dumplin'
by
Julie Murphy
Released:
15th September 2015
Published by:
Penguin Teen Australia
Genre:
YA Contemporary
Source:
Publisher
Pages:
384
My Rating:
3.5 of 5 stars
Goodreads
|
Book Depository
|
Bookworld
Self-proclaimed fat girl Willowdean Dickson (dubbed "Dumplin'" by her former beauty queen mom) has always been at home in her own skin.

Her thoughts on having the ultimate bikini body? Put a bikini on your body. With her all-American beauty best friend, Ellen, by her side, things have always worked . . . until Will takes a job at Harpy's, the local fast-food joint. There she meets Private School Bo, a hot former jock. Will isn't surprised to find herself attracted to Bo. But she is surprised when he seems to like her back. Instead of finding new heights of self-assurance in her relationship with Bo, Will starts to doubt herself. So she sets out to take back her confidence by doing the most horrifying thing she can imagine: entering the Miss Clover City beauty pageant—along with several other unlikely candidates—to show the world that she deserves to be up there as much as any twiggy girl does.

Along the way, she'll shock the hell out of Clover City—and maybe herself most of all. With starry Texas nights, red candy suckers, Dolly Parton songs, and a wildly unforgettable heroine— Dumplin' is guaranteed to steal your heart.
Thank you to Penguin Teen Australia for sending me a copy of this book in exchange for an honest review
Dumplin'
is a story about being confident in your own skin, doing things outside your comfort zone, and breaking down the archetypal stereotypes which can tend to reemerge in YA. With a healthy dose of Southern charm, Julie Murphy has written a contemporary which holds a complex set of characters and heartening message. Though I didn't love it as much as
Side Effects May Vary,
I'd still say that this book is worth a read this year for people on the lookout for a story of romance, empowerment and friendship.
Willow wants to challenge what it means to enter a beauty pageant - why shouldn't it be open to the 'misfits' or people without that 'perfect' body? It was interesting to read about the relationship between herself and her mother who was one of the quintessential 'beauty queens'. Will never quite felt accepted by her mother for who she was, however still stood as a seemingly confident young woman ready to take on the world and smash the stereotypes which tried to label her as undesirable. The friendship with her bestie Ellen was also a good plot point, showing how there can be ups and downs in even the closest of pairings, and sometimes over the most trivial things. There were other friendships explored though which Will sought out - and she really got to see how the 'outcasts' of her school weren't necessarily the same as what people had perceived them to be. Everyone has a story and their own true identity on the inside.
One thing which felt a little rocky for me was the romance - it was good in the sense of portraying a situation which isn't stereotypical, but I just couldn't ship it as much as I would have liked. Bo and Willowdean were a nice couple, however I wish there was that extra little spark which was missing. There came a point where I wanted Willow to actually allow herself to be happy and not need to seek validation and acceptance since she was such a strong character before. There was a little bit of a love triangle as well and at times the romance was a little clunky. It was just missing that extra something for me and the more satisfying ending that I was looking forward to.
FINAL THOUGHTS
Dumplin'
is ultimately a story about growing up, being open to change, maturing as a person and developing a positive self-image. While it's not my favourite YA contemporary, I'm still very much looking forward to reading more from Julie Murphy in future!