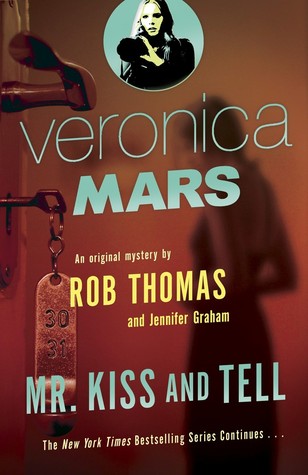 Mr. Kiss and Tell
by
Rob Thomas and Jennifer Graham
Series:
Veronica Mars #2
Released:
28th January 2014
Genre:
Mystery/Crime
Source:
Publisher
Pages:
336
My Rating:
3.5 of 5 stars
Goodreads
|
Bookworld
|
Book Depository
In the second book in the New York Times bestselling mystery series, Veronica Mars is back with a case that will expose the hidden workings of one of Neptune's most murderous locations.

The Neptune Grand has always been the seaside town's ritziest hotel, despite the shady dealings and high-profile scandals that seem to follow its elite guests. When a woman claims that she was brutally assaulted in one of its rooms and left for dead by a staff member, the owners know that they have a potential powder keg on their hands. They turn to Veronica to disprove—or prove—the woman's story. The case is a complicated mix of hard facts, mysterious occurrences, and uncooperative witnesses.

The hotel refuses to turn over its reservation list and the victim won't divulge who she was meeting that night. Add in the facts that the attack happened months ago, the victim's memory is fuzzy, and there are holes in the hotel's surveillance system, and Veronica has a convoluted mess on her hands. As she works to fill in the missing pieces, it becomes clear that someone is lying—but who? And why?
Thank you to Allen and Unwin for sending me a copy of this book in exchange for an honest review
Mr Kiss and Tell
follows on from its predecessor in the series, and while many of the characters are familiar, this time around the mystery has really picked up in full force. Private investigator Veronica Mars has a new case dealing with an alleged rape at the Neptune Grand, but with political corruption, unreliable witnesses and other personal issues coming to light, getting justice would not be easy.
The plotline and concept itself in this book was successful in providing a continuation from
The Thousand Dollar Tan Line
and a glimpse into the lives of those characters now. Of course, this new challenge for Veronica was one that she faced with her same determined attitude, even in the face of an elusive but nonetheless dangerous attacker. With crime novels its inevitable that the build up to the reveal and final 'closing the book' on the cases will be slow, and there were some parts where I felt that. However, by about the three-quarter mark I could tell that things were getting quite complex with the cases of mistaken identity and tracking of the assaulter causing some tension to mount.
What I did really appreciate in this story was seeing more of Logan and Veronica's relationship. The two definitely have a special bond, but under the strain of his job in the military it's not always easy to maintain that. I'd definitely be looking forward to seeing more from the pair in the third book since they do make a good couple!
FINAL THOUGHTS
This is another well thought-out mystery novel that works really well with the previous book -blending old characters with a fresh storyline. Bring on book three!