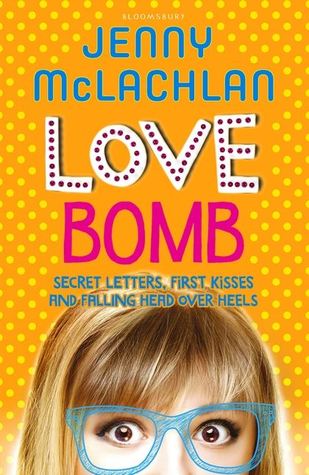 Love Bomb
by
Jenny McLachlan
Series:
The Ladybirds #2
Released:
12th March 2015
Published by:
Bloomsbury
Genre:
YA Contemporary
Source:
Publisher
Pages:
304
My Rating:
3 of 5 stars
Goodreads
|
Bookworld
|
Book Depository
Perfect Valentine's reading for fans of Geek Girl and Louise Rennison. Betty Plum has never been in love. She's never even kissed a boy.

But when H.O.T. Toby starts school it's like Betty has been hit with a thousand of Cupid's arrows. It's like a bomb has exploded – a love bomb! More than ever Betty wishes her mum hadn't died when Betty was a baby. She really needs her mum here to ask her advice. And that's when she finds hidden letters for just these moments. Letters about what your first kiss should feel like and what real love is all about …

Is Betty ready to fall in love? Will she finally have her first kiss?
Thank you to Bloomsbury Australia for sending me a copy of this book in exchange for an honest review
In this second book from 'The Ladybirds' series, you'll find the same lighthearted vibe for the most part, with some teenage drama relating to friendship, boys and family. While this book may seem superficial at first with the seemingly immature choices of the characters, there was a deeper message which I really appreciated.
Betty's mother passed away when she was only two years old, but wrote her birthday letters before she died that her daughter could read each year. This was a really sweet element of the story, and reading these letters and the love which her mum wrote about, and of her own experiences was truly touching. Some of them brought tears to my eyes, especially when it came down to the fact that this inextricable mother-daughter connection could still be maintained in that way.
One of my qualms though was the character voices and how they sounded so much younger than fifteen. Sure, hormones are raging, though when it comes to the point of going through all this infatuation and literally picking out a 'kissing outfit', it does seem a bit excessive. I suppose that's what contributes to this probably being suited to a younger YA audience if that sort of thing would annoy you.
Yes, some of Betty's actions annoyed me - but when you're young and 'in love', everything else could fall by the wayside. Combined with facing the fact that her dad may be moving on with someone new, it's no wonder that it was hard to navigate the line between seeing someone as they really were and trying to conjure up a reality where the 'hot guy' really was perfect. With that in mind, there were some realistic issues explored here, with the ups and downs, misinterpretations and finally an awakening to what's important in what a girl deserves in her life - someone who appreciates her for who she is.
FINAL THOUGHTS
Though the first book is still my favourite, Love Bomb still has its merits. Beneath the facade of melodrama lies a genuine story with a message that anyone could appreciate: Realising that you are worth something, and that true love will come naturally if you search for it in the right places.