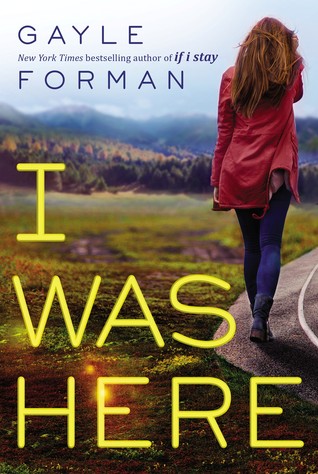 I Was Here
by
Gayle Forman
Released:
1st February 2015
Published by:
Simon and Schuster
Genre:
YA Contemporary
Source:
Publisher
Pages:
288
My Rating:
3 of 5 stars
Goodreads
|
Bookworld
|
Book Depository
Cody and Meg were inseparable. Two peas in a pod. Until . . . they weren't anymore.

When her best friend Meg drinks a bottle of industrial-strength cleaner alone in a motel room, Cody is understandably shocked and devastated. She and Meg shared everything—so how was there no warning? But when Cody travels to Meg's college town to pack up the belongings left behind, she discovers that there's a lot that Meg never told her. About her old roommates, the sort of people Cody never would have met in her dead-end small town in Washington. About Ben McAllister, the boy with a guitar and a sneer, who broke Meg's heart. And about an encrypted computer file that Cody can't open—until she does, and suddenly everything Cody thought she knew about her best friend's death gets thrown into question.

I Was Here is Gayle Forman at her finest, a taut, emotional, and ultimately redemptive story about redefining the meaning of family and finding a way to move forward even in the face of unspeakable loss.
Thank you to Simon and Schuster Australia for sending me an ARC of this book in exchange for an honest review
I Was Here in some aspects is a book that I at first found difficult to rate - it tackles a tough issue in a realistic way, but unfortunately I still had my qualms with it. Even so, this novel, like others by Gayle Forman, places the focus on the emotional turmoil of its characters. The pain and the grief, and the frustration at losing someone so close, was explored deeply and with an edge that felt authentic.
Meg was my best friend, and I thought we were everything to each other. I thought we told each other everything. But it turns out, I didn't know her at all.
When Cody realises just how much she didn't know her best friend Meg, she is understandably devastated, but sets off on a mission of her own, along with some help from Meg's ex Ben to find out why she had decided to take her own life. This isn't exactly an uplifting read, and there certainly isn't any humour to break up the tension. For the whole duration you're walking on a wire that's tense with emotion. However, despite this - in terms of plot developments and action, there wasn't much that actually happened. Very early on in the story it took a darker turn with the discovery of some files on Meg's computer, which was a twist that changed the direction of the plot. I was expecting a few huge revelations, but when they didn't come, or were anti-climatic, I did feel a little let down. I can't help but compare this experience to how I felt about If I Stay, which I had the same issue with. This author's style is one that won't appeal to everybody, but if you don't mind focusing on the characters' inner thoughts and sentiments rather their outward actions, then this could work for you. The message that did clearly come through to me though was one of forgiveness - which is an important one to remember, and I'm glad I could get that out of the story.
How can you believe someone to be beautiful and amazing and just about the most magical person you've ever known, when it turns out she was in such pain that she had to drink poison that robbed her cells of oxygen until her heart had no choice but to stop beating?
Alongside the agony of coping with Meg's carefully orchestrated 'Final Solution', was a romance that just didn't feel right. It's understandable that in such an taut situation with all emotions running high that such events could unfold, but the inevitable bond that developed was one I couldn't understand or support. Cody's decision-making at times, going to stranger's houses on her own where who knew what could happen, and grappling with feelings for her now dead best-friend's ex were things I didn't like. Moving forward is something that is part of the grieving process, and I'm sure is different for everybody, but Cody's actions didn't resonate with me. However, what did in some ways balance that out was the fact that Meg's parents were in the picture. This gave the novel a more holistic and multifaceted insight into the devastation left behind after Meg's death - and it was those moments which I found especially moving. As for Cody's mother Tricia - well, she wasn't the most nurturing at the beginning, though she did undergo some character development by the end which was nice to see.
FINAL THOUGHTS
I Was Here is an emotional read as a whole, but its flaws for me not being able to fully connect with Cody's character and lack of plot developments brought down my rating. However, If you're already more of a fan of Gayle Forman than I am, I still think there's still a possibility you'll like this one and should give it a try.