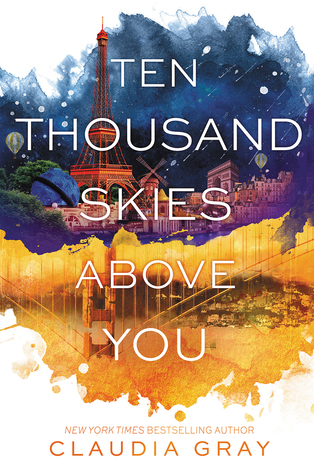 Ten Thousand Skies Above You
by
Claudia Gray
Series:
Firebird Trilogy #2
Released:
2nd November 2015
Published by:
HarperCollins
Genre:
YA Science Fiction
Ever since she used the Firebird, her parents' invention, to cross into alternate dimensions, Marguerite has caught the attention of enemies who will do anything to force her into helping them dominate the multiverse—even hurting the people she loves. She resists until her boyfriend, Paul, is attacked and his consciousness scattered across multiple dimensions. Marguerite has no choice but to search for each splinter of Paul's soul.

The hunt sends her racing through a war-torn San Francisco, the criminal underworld of New York City, and a glittering Paris where another Marguerite hides a shocking secret. Each world brings Marguerite one step closer to rescuing Paul. But with each trial she faces, she begins to question the destiny she thought they shared.

The second book in the Firebird trilogy, Ten Thousand Skies Above You features Claudia Gray's lush, romantic language and smart, exciting action, and will have readers clamoring for the next book.
Thank you to HarperCollins Australia for sending me a copy of this book in exchange for an honest review
Following on from the stellar novel (inside and out) that is
A Thousand Pieces of You, Ten Thousand Skies Above You
did literally go above and beyond in wowing me once again. Whilst the first book sets the scene for the multiverse concept and places the characters in all sorts of dilemmas, in this installment Marguerite has so much more responsibility to deal with and of course, there are also villains at play.
I'm alone in ways I thought I never would be again, because I always thought that even when Paul wasn't with me, he was a part of me.
Not only are there once again a number of different universes for Marguerite to explore in her mission to save Paul in his entirety, but new challenges also emerge. Some of the events which happened in the first book are now having their consequences felt, and that's what makes this installment an engrossing one. Not only has Marguerite's character developed even more, but it feels as if she's matured a lot since she realised the Firebird technology has the capacity to be used for good and evil. Through ancient Rome, a Warverse, a futuristic city where everybody lives among the clouds and once again visiting elements of some settings explored in the first book, Claudia Gray has woven vivid descriptions with a thrilling plot.
Ten thousand skies, and a million worlds, and it still wouldn't be enough for me to share with you. Nothing less than forever will do.
There is SO MUCH HAPPENING in this book, and the amount of times I literally looked shocked surprised even me. If you thought
A Thousand Pieces of You
left you reeling, just wait until you see what this novel can dish up. All of this I mean in the best possible way, because when I'm reading a book, I love the surprises!
My best advice? Leave any theories you may have had about what's really going on behind the scenes, and be prepared for some truly unexpected twists. There are multiverse conspiracies, corruption and a questioning of the morality of travelling between all these different times and places when you're bound to make even the smallest of differences. I obviously can't give anything away, but read the book and find out - you won't regret it!
FINAL THOUGHTS
A Thousand Pieces of You
wowed me, and
Ten Thousand Skies Above You
left me speechless. I'm floored by the amazing storytelling in this one, and Gray's ability to reel us readers in before dropping some pretty major bombshells. Book three can't come soon enough!