As you can probably tell from the title, this post is going to include my condensed thoughts on a range of books (with titles that can make some pretty interesting sentences).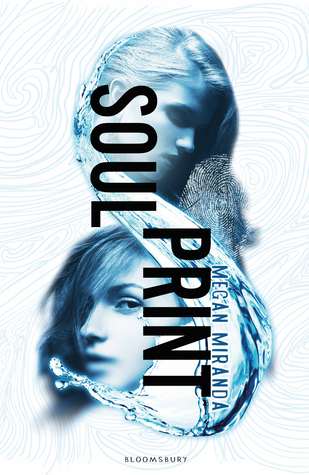 Soulprint
by
Megan Miranda
Released:
12th February 2015
Published by:
Bloomsbury
Genre:
YA Science Fiction
Source:
Publisher
Pages:
368
My Rating:
3 of 5 stars
Goodreads
|
Bookworld
|
Book Depository
Alina Chase has spent her entire life in confinement. With the science of soul-printing now a reality, she is 'protected' for her own safety - and the safety of others - because her soul has done terrible things ...or so she's told. When Alina finally breaks out of prison, helped by a group of people with unclear motives, she begins to uncover clues left by her past life that only she can decipher. And she may not be as innocent as she once believed.

Can Alina change her future, or is she fated to repeat her past and face the consequences?
Thank you to Bloomsbury Australia for sending me a copy of this book in exchange for an honest review
Soulprint for me is a book that had a great premise and overarching concept, but I just couldn't connect with the characters or the story as much as I would have liked. The futuristic, pseudo-scientific ideas of 'stealing souls' and having the implications of that be so far-reaching for people was definitely interesting, and not something I've seen too often in YA. The only book I've read which has a similar idea is 'What's Left of Me' by Kat Zhang.
I feel her in me - the parts of her I like, the parts I struggle against, all of them - and I gather her close.
In any case, while the beginning was hard to get into, the pace did start to pick up after that, and Alina's character underwent some development. Dealing with the soul of a criminal isn't easy, and what did add to my interest for this book was her internal struggle and conflict regarding her identity and differentiating her own character from the other soul to contend with.
FINAL THOUGHTS
In all, this was a satisfying read with an idea that believable enough to keep you reading.
There Will Be Lies
by
Nick Lake
Released:
6th January 2015
Published by:
Bloomsbury
Genre:
YA Mystery
Source:
Publisher
Pages:
464
My Rating:
3.5 of 5 stars
Goodreads
|
Bookworld
|
Book Depository
In four hours, Shelby Jane Cooper will be struck by a car. Shortly after, she and her mother will leave the hospital and set out on a winding journey toward the Grand Canyon. All Shelby knows is that they're running from dangers only her mother understands. And the further they travel, the more Shelby questions everything about her past—and her current reality.

Forced to take advantage of the kindness of unsuspecting travelers, Shelby grapples with what's real, what isn't, and who she can trust . . . if anybody. Award-winning author Nick Lake proves his skills as a master storyteller in this heart-pounding new novel. This emotionally charged thrill ride leads to a shocking ending that will have readers flipping back to the beginning.
Thank you to Bloomsbury Australia for sending me a copy of this book in exchange for an honest review

Well I can definitely say that There Will Be Lies is unique..albeit really strange. As a thriller it definitely keeps you guessing, and with an unreliable narrator even us readers call into question. With an unconventional writing style and structure, strong narrative voice and a twists coming from every direction - I did end up enjoying this book despite its intrinsic weirdness.

Shelby had lived a really sheltered life with her domineering mother before being hit by a car when everything changes. We are first told this by Shelby herself, and it's interesting how the whole story is her recapping what's happened - all in her very sarcastic narrative voice. She was definitely an interesting character to read about, and while you may be taken aback by all the conversations being in italics at first, there is an explanation. What I still couldn't figure out though was what the parentheses were in different places - was it a part of a conversation she couldn't understand or is there some other explanation? Regardless, she was a complex character, and her confusion and frustration as to what the heck was going on is something that I could resonate with - because for the most part I felt the same.

There is a recurring star motif which was nice, and when there is this alternate reality shift into 'The Dreaming' it was interesting at first. However, once we had visited it a few times I did find myself just wanting to skip to what was happening in the much more thrilling real world. Who can be trusted? Can you tell a lie from the truth? Where are the boundaries of reality? This book definitely keeps your mind whirring as to all the possibilities, and at the end it does all come together in some way.

FINAL THOUGHTS


Though it took me a while to read this book, once I picked it up again I did find myself drawn into the web of lies and mystery as this unique story unfolded. If you're looking for a book that will keep you turning the pages to chase up the answers, then this is for you.
Published by:
Simon and Schuster
Genre:
YA Contemporary/Apocalyptic
Goodreads
|
Bookworld
|
Book Depository
Luminous, haunting, unforgettable, The Age of Miracles is a stunning fiction debut by a superb new writer, a story about coming of age during extraordinary times, about people going on with their lives in an era of profound uncertainty. On a seemingly ordinary Saturday in a California suburb, 11-year-old Julia and her family awake to discover, along with the rest of the world, that the rotation of the earth has suddenly begun to slow. The days and nights grow longer and longer, gravity is affected, the environment is thrown into disarray.

Yet as she struggles to navigate an ever-shifting landscape, Julia is also coping with the normal disasters of everyday life--the fissures in her parents' marriage, the loss of old friends, the hopeful anguish of first love, the bizarre behavior of her grandfather who, convinced of a government conspiracy, spends his days obsessively cataloging his possessions. As Julia adjusts to the new normal, the slowing inexorably continues.

With spare, graceful prose and the emotional wisdom of a born storyteller, Karen Thompson Walker has created a singular narrator in Julia, a resilient and insightful young girl, and a moving portrait of family life set against the backdrop of an utterly altered world.
Thank you to Simon and Schuster Australia for sending me a copy of this book in exchange for an honest review
I really loved The Age of Miracles the first time I read it when it was released, and now re-reading it has brought back the memories of why I did find it so fascinating and unputdownable. This is a book that takes a glimpse into the seemingly ordinary lives of people, faced with a situation that rocks the very core of their existence. The one thing that could seem so constant in our lives...that night follows day and the earth keeps spinning is something which we shouldn't have to think about - it just happens. Yet, it's so fascinating to read a story that takes what sounds so bizarre a situation and subtly explores one family in particular and how they react.
I should have known by then that it's never the disasters you see coming that finally come to pass; it's the ones you don't expect at all.
The phenomenon of 'the slowing' as it becomes known has a profound impact on eleven year old Julie especially. This coming-of-age story is unlike any other I've read. Not only did the characters all have their small nuances and have their own way of coping with this looming disaster, but Julia was very easy to connect with and likable. Sure, the pacing isn't zooming past, but the plot just flows really well and the writing is so lyrical and insightful.
FINAL THOUGHTS
The Age of Miracles is one of the best coming-of-age novels I have ever read. It's a book that I've now re-read, and can see myself looking back at again in the future. I can't wait to see what Karen Thompson Walker writes next.
The Haunting of Sunshine Girl
by
Paige McKenzie
Released:
26th March 2015
Published by:
Pan Macmillan
Genre:
YA Paranormal/Horror
Source:
Publisher
Pages:
301
My Rating:
4 of 5 stars
Goodreads
|
Bookworld
|
Book Depository
Based on the wildly popular YouTube channel, The Haunting of Sunshine Girl has been described as " Gilmore Girls meets Paranormal Activity for the new media age."

YA fans new and old will learn the secrets behind Sunshine—the adorkable girl living in a haunted house—a story that is much bigger, and runs much deeper, than even the most devoted viewer can imagine…
Thank you to Pan Macmillan Australia for sending me a copy of this book in exchange for an honest review
The Haunting of Sunshine Girl was more of a paranormal YA novel, than one which truly had the ability to scare, but I still really enjoyed it nonetheless. It did have all the elements of what a good creepy story should have - an old house where there are strange noises, a ghost doing the haunting, and a main character who finds it hard to make people believe what she sees.

Now, I haven't read a good ghost story in a while, and I don't watch that many horror movies - but this did seem pretty mild. I think it did read in a somewhat cinematic fashion though, however the plot developments did happen quite slowly overall. We get a glimpse at the 'typical' signs of a ghost lurking - unexplained occurrences, a cold chill coming into the room and the inhabitant of the house trying to solve why they are there. Despite these apparent cliches, I still found myself somewhat invested in Sunshine's story. The cute friendship/romance in the mix was a nice touch to take a break from the real mystery at hand. Though the twist was one I saw coming, even then I found myself flicking through the pages wanting to know how it all would end.

FINAL THOUGHTS

Though I wouldn't say this is a book to 'read with the lights on' necessarily (unless you are very easily freaked out), this is still a decent contemporary novel with a paranormal element. It didn't scare my socks off, but perhaps if I had read it on a 'dark and stormy night' then it would have.