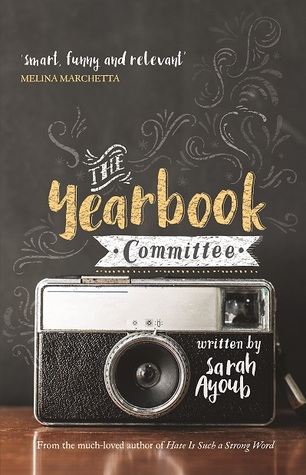 The Yearbook Committe
by
Sarah Ayoub
Published by:
HarperCollins
Five teenagers. Five lives. One final year.

The school captain: Ryan has it all … or at least he did, until an accident snatched his dreams away. How will he rebuild his life and what does the future hold for him now?

The newcomer: Charlie's just moved interstate and she's determined not to fit in. She's just biding her time until Year 12 is over and she can head back to her real life and her real friends …

The loner: At school, nobody really notices Matty. But at home, Matty is everything. He's been single-handedly holding things together since his mum's breakdown, and he's never felt so alone.

The popular girl: Well, the popular girl's best friend … cool by association. Tammi's always bowed to peer pressure, but when the expectations become too much to handle, will she finally stand up for herself?

The politician's daughter: Gillian's dad is one of the most recognisable people in the state and she's learning the hard way that life in the spotlight comes at a very heavy price.

Five unlikely teammates thrust together against their will. Can they find a way to make their final year a memorable one or will their differences tear their world apart?
Thank you to HarperCollins Australia for sending me a copy of this book in exchange for an honest review
Since reading Sarah Ayoub's debut novel
Hate is Such a Strong Word
, I've been impressed by her ability to write stories for a teen audience which are both candid and astutely written. In
The Yearbook Committe
we meet a cast of characters who all have their own unique backgrounds, personality traits and challenges. It is this diversity which gives rise to some well observed insights into how people cope in situations which they didn't necessarily plan for, and that (even though it sounds cheesy), self-discovery is the result. I adored this book as a real page-turner; essential reading for any YA fan.
Everything seemed uncertain, different, damaged. Just like the promise of our youth, now irreversibly changed due to a night whose sinister warning had been brewing steadily beneath the surface of our teenage dreams.
This book isn't 'just another contemporary novel' among all the rest standing on the shelves. What makes The Yearbook Committee different is the subtle yet powerful balance between the 'everyday' dramas of life in high school, to the deeper issues facing adolescents; sometimes with dire consequences. This isn't a book that outright preaches a certain message though - it's intelligent enough to let each individual reader take what best resonates with them from it.
Gillian 'I wonder what it feels like to be so secure, to have everything you ever wanted. To wake up feeling like life is perfect. I was starved of those feelings, and on some level I guess my mum's ideas about what makes life amazing was part of the problem. I go to sleep thinking about the future. Would I ever stop feeling like I just don't measure up?
Multiple POV's can be hit-and-miss depending on how well each character is differentiated, and if each is represented equally. In The Yearbook Committee each perspective, be it from Charlie the subversive strong-willed activist, to Gillian who is struggling with her own insecurities and finding her voice, Matty who has more responsibilities than most teenagers his age, Tammi who is defined by being only 'cool by association', or Ryan whose aspirations are in question. These may at first glance appear to be stereotypical archetypes. Yet, don't we all in some way know a 'Charlie' or a 'Ryan' out there? Perhaps we even embody some of their characteristics within ourselves. Each of these characters is unique, and still they are united by this common task - producing the yearbook. The convergence of these personas is aptly portrayed, making the novel an interesting read, as well as a touching one when further links between them are revealed.
The yearbook committee had started out as a random bunch of people who walked the same halls, sat the same exams, shared the ordinary school experiences that became extraordinary as we learnt to look beyond one another's facade, Facebook profile picture, group of friends.
The layout of the book itself also adds interest and makes it all the more relevant to the teens of today. Alongside scribbled minutes of the meeting are social media profile updates, emails and conversations. I always love it when a book has these multimodal elements, and
The Yearbook Committee
is no exception. It reinforces that central concept, while the characters' lives are allowed to spiral out from it. The structure allows for some twists along the way, which you wouldn't necessarily see coming.
FINAL THOUGHTS
The Yearbook Committee
is a truly multifaceted read, which evoked so many emotions in me. It has both a lighthearted, witty side as well as a serious one - switching between the two effortlessly. This is an outstanding piece of Aussie YA which I'd recommend to everyone.