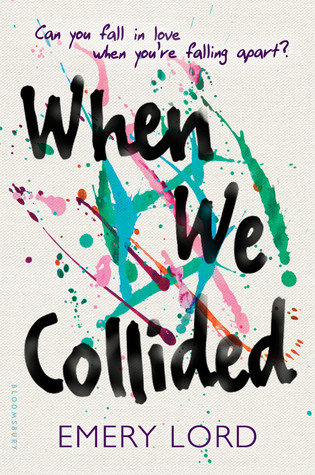 When We Collided
by
Emery Lord
My Rating:
4.5 of 5 stars
Meet Vivi and Jonah: A girl and a boy whose love has the power save or destroy them. Vivi and Jonah couldn't be more different. Vivi craves anything joyful or beautiful that life can offer. Jonah has been burdened by responsibility for his family ever since his father died. As summer begins, Jonah resigns himself to another season of getting by.

Then Vivi arrives, and suddenly life seems brighter and better. Jonah is the perfect project for Vivi, and things finally feel right for Jonah. Their love is the answer to everything. But soon Vivi's zest for life falters, as her adventurousness becomes true danger-seeking. Jonah tries to keep her safe, but there's something important Vivi hasn't told him.

Perfect for fans of E. Lockhart and Jandy Nelson, When We Collided is a powerful story of two teens whose love is put to the test by forces beyond their control.
Thank you to Bloomsbury Australia for sending me a copy of this book in exchange for an honest review
Mental illness. Food. Art. Grief. Family. Love? These are some of the first things that may come to mind after finishing When We Collided. At its most basic, yes it does encapsulate all of these things - but beneath the surface it is so much more. It is a story about people coming to terms with the hardships around them, tand hose within themselves. It is the narrative of two antithetical personalities who find a spark. Even more so, it is a book which drives home the fact that we are not invincible, and everyone has their limits; because it is our fallibility which makes us human.
When I met Jonah Daniels yesterday, there was a magical shift in the trajectory of the summer. He's the ring to my Frodo, the wardrobe to my Lucy Prevensie. His presence in my life sets me on my journey, and I can feel it, a vital mission pulsing in my bones. Here is a boy who needs me.
But, despite the fact that we are imperfect and hold our own eccentricities and inner turmoils, there is still hope and happiness to be found. This, is where Jonah and Vivi come in - two of the most different yet so well developed characters I've found in YA. If you wanted to put Vivi in a box, you may say she holds some of the characteristics of a 'Manic Pixie Dream Girl'. Perhaps on the surface she appears to be, and yet her vivacious eccentricities and exuberant persona only just scratches the surface. What I loved about this was that the author doesn't sugarcoat mental illness in this book, and tackles it head-on, in such a way which challenges us readers in terms of what we may find 'likable' in the characters we come across. Admittedly, Vivi can seem self-absorbed, and doesn't always realise the effect her whirlwind behaviour has on others. But when it is properly revealed why she does and thinks certain things, it all makes sense - and suddenly, Vivi is someone to empathise with as opposed to just another female character there to 'fix' the guy she's aiming for.
Here is something I never expected to feel: love at first sight for an entire family. But life surprises you. Life tells you to close your eyes and blow out the candles, and sometimes life smashes your face into the cake before you can even make a wish. But! Sometimes, every once in a while, you get your wish in. You wish for a boy to spend the summer with, and instead life gives you his whole beautiful family.
With character development getting a big tick from me, while the romance did progress quickly, the book was truly grounded by the family aspect. One of my favourite things to see in a contemporary is a family dynamic which goes beyond the dramas which the two protagonists are facing. Enter Jonah Daniels: A teenage boy who is wise beyond his years and has more responsibilities than most boys his age. With a family still grieving, a restaurant to help run and a life of his own to live, it certainly isn't easy. His character was so well contrasted with Vivi's, and when the two 'collided', the results essentially made for a rollercoaster ride of a story in which there were some shocks and tears, along with an unexpected yet fitting end. The rest of the Daniel's family held characters which were also quite well developed and not simply those 'cardboard' secondary characters which sometimes seem to be there just for the sake of it. Leah, the youngest, was especially adorable, and brought that childhood innocence to a book which deals with some heavier issues.
FINAL THOUGHTS
I can already tell that When We Collided will be one of my favourite contemporaries of the year. Beautifully told, with a heartfelt message at its core and very real characters, this is a contemporary with wow-factor.
Author Interview with Emery Lord
From the start of the novel I could see that Jonah and Vivi are quite different characters in terms of their personalities and outlook - which one came to you first when you started writing, and how did you come up with the idea of how their lives would collide?
This is a weird thing to say, but they came to me at the same time because they both have my core qualities. Part of me is as pragmatic and introspective as Jonah; another part of me is as playful and emotional as Vivi. So I gave them each these mindsets, then built them up as characters. It was really fun to explore two different sides of my personality in totally different context!
I love how this book is more than just a romance and includes a sense of family as well, especially for Jonah. How important for you as a writer was it to also portray the Daniels family as a whole?
It was really important to me because I think the death of a loved one is often both personal AND a shared family experience. You experience not only your own grief, but theirs. But you also have commiseration and shared memories in a way that is so, so helpful.
Having written two other contemporary YA novels with The Start of Me and You and Open Road Summer, what is it about the genre which makes you want to write in it?
Well, I love spec fiction as a reader—magical realism, fantasy, dystopia, all of it. But I think I write contemporary YA because my definition of magic spans a slightly different spectrum. Maybe we don't have powers like moving things with our minds…but we can move people to action. Maybe we aren't actual empaths, absorbing people's feelings, but we can show up for our friends and ride out painful experiences with them. So, I think I like exploring that as people develop their "powers"—which is very often as teenagers.
Incorporating aspects of mental illness and depression in YA is becoming more prominent. What prompted you to explore these ideas and the challenges for teens facing them in your book?
My own experiences, and that of my friends and family. Mental illness is just so common in real lives; I find it surprising it's not talked about more in books—especially without there being tragedy. Just for me, I wanted to write a book about how life can be hard sometimes and still really, really good and filled with love. It feels truest to my own life!
The writing has such a lyrical style in some placed which I adore - what's one of your favourite quotes which you think captures the essence of the story?
A member of my marketing team said, "We have messy, throbbing hearts, and we are stronger than anyone could know" encapsulates what it feels like to be a teen, for her. I think it does for me too.
Finally, congratulations on writing such a brilliant and moving story which I'm sure will be embraced by so many readers. Can you give us any hints on what we can expect from you next?
Thank you! Next, I'm writing about belief and cancer and summer camp.
***
Emery Lord is the author of Open Road Summer and The Start of Me and You.
She lives in a pink row house in Cincinnati, with a husband, two rescue dogs, and a closet full of impractical shoes.
Check out the other stops on the tour!