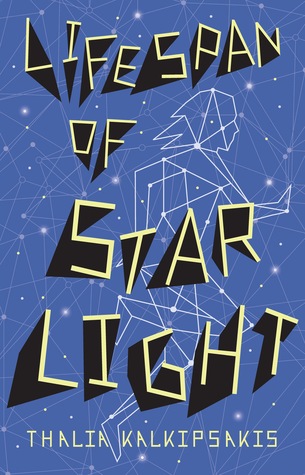 Lifespan of Starlight
by
Thalia Kalkipsakis
Series:
Starlight #1
Released:
1st April 2015
Published by:
Hardie Grant Egmont
Genre:
YA Science Fiction
Source:
Publisher
Pages:
277
My Rating:
4 of 5 stars
Goodreads
|
Bookworld
|
Dymocks
The first in a thrilling new trilogy of epic proportions from best-selling children's author Thalia Kalkipsakis. A fresh take on the time tripping genre, The Lifespan of Starlight is Gattaca meets The Time Traveler's Wife.

It already lies dormant within you: the ability to move within time.

In 2084, three teenagers discover the secret to time travel. At first their jumps cover only a few seconds, but soon they master the technique and combat their fear of jumping into the unknown. It's dangerous. It's illegal. And it's utterly worth it for the full-body bliss of each return. As their ability to time jump grows into days and weeks, the group begins to push beyond their limits, with terrifying consequences. Could they travel as far as ten years, to escape the authorities? They are desperate enough to find out. But before they jump they must be sure, because it only works in one direction.

Once you trip forwards, there's no coming back.
Thank you to Hardie Grant Egmont Australia for sending me a copy of this book in exchange for an honest review
Although
Lifespan of Starlight
wasn't exactly what I expected, it exceeded my expectations and impressed with a diverse futuristic world that not only had the element of time travel, but a wider scope of what life could be like in seventy years' time. With a side of hacking, conspiracy and some sci-fi drama, this debut has definitely caught my attention and I'm sure it will for you too.
All our lives, we've been moving with the flow of time because that's all we know...But in truth, time isn't flowing. Reality only exists in separate moments, like frames in a movie.
Coutlyn (aka. Scout) is our protagonist, illegally living in a city where her mother has done everything for her, from saving food rations to share, to keeping her under the radar at all costs. It's the year 2084 and society has changed dramatically. However, this is no 'dystopia' as such, and
Lifespan of Starlight
certainly doesn't fall into any of those cliches. Instead, what you get is an Australian setting with the landmarks Sydneysiders especially will be sure to recognise; told from a whole new creative perspective. The worldbuilding in the story as a whole is excellent, and the balance between this and the other 'time travel' aspect is perfect.
Our sense of time changes because we control the passage of time within ourselves.
While there isn't 'time travel' in the 'traditional' sense here, where kids go and try to save the world going back to different historical periods, I liked the author's original twist on it. The fact that this wasn't always the main focus of the plot didn't bother me either, as there was so much to explore further about Scout's character and how her identity (or lack thereof) shaped her experiences. Time 'skipping' was actually really interesting to read about, and a concept which I'm sure will be explored in more detail in the next book. In terms of the romance, though there was a
hint
at one point, it definitely took a back seat in this case - which worked. There's a whole lot more important things to worry about here!
FINAL THOUGHTS
Lifespan of Starlight
is a compulsively readable debut which Thalia Kalkipsakis has truly impressed me with. I cannot wait to read the next book after that cliffhanger! If you're looking for something different in the Aussie YA sci-fi arena, then this book is definitely worth your while.