If you want to read my review of the first book in the series, If I Speak True, then you can do so

here
By Sun and Candlelight
by
Jessica L. Brooks
Released:
5th August 2014
Series:
Flora #1.5
Genre:
YA Magical Realism
Source:
Author
My Rating:
5 of 5 stars
Goodreads
|
Amazon
A threat, a missing book, a traitor, and an attack. Even when you choose the light, things aren't always so black and white when they involve matters of the heart. Rowan has some decisions to make.

Told in Rowan's point of view, By Sun and Candlelight (Flora, 1.5) gives you a new view into the characters and daily happenings at Castle Lennox and bridges the gap between If I Speak True (Flora, 1) and Open Thy Heart (Flora 2 -- coming September 2014).
I received a copy of this book from the author in exchange for an honest review
I have loved this series from the very first book 'If I Speak True', and once again in this novella Jessica Brooks has produced something fantastic. This short story coming from Rowan's perspective takes you right into Ambrosia and into the inner workings of his life and the political state of his kingdom. I don't usually read books with a fantasy element but in the case of this series I've definitely be converted thanks to the fantastic concept which is also very well executed.
I love thee to the level of everyday's most quiet need, by sun and candlelight.
This novella does a really good job of explaining the world of Ambrosia in even more detail. If you've read the first book then I would definitely recommend reading this to give a holistic view into Rowan's character so that you can understand him better and who he really is as a person. He is brave, noble and obviously truly cares about Dahlia, who comes from the real world in her town of Shaver. The novella also gives a glimpse into his royal duties, and relationship with his mother the Queen which was also interesting to read about. Jessica Brooks has definitely created a world which is built really well, with so many aspects of it explored. I love how the descriptions are subtly woven into the story to provide a wide picture of what Ambrosia entails.
Glowing embers with winds, alighting then fading to darkness, pull my eyes from the sky. Fyreflies. I feel a lot like one at times. Dark when I am alone; lit when Dahlia is nearby.
Aside from the setting itself, it was great how this book got into the historical and cultural context of Ambrosian society. The nature element where people are named after trees if they are men, and flowers if they are women - each with their own meanings, gave further depth to the story and overall worldbuilding. Being in the 'Flora' series, this definitely makes sense and is a unique twist which fits perfectly into the story.
It reminds me of the sunset the first time Dahlia came through the Door during the daytime. How she brought light to me, changed the way I saw so many many things, even my own people. She pulled me from the depths of darkness I had buried around within myself. She made me feel again, for the first time in so very long.
While Rowan was a character with his own unique personality, the secondary characters were similarly well developed. There's also a character list at the beginning of the book to help out if you forget the 'who's who' of everyone, and some witty banter throughout between Rowan and his other friends at the castle. This book has a perfect balance between some mystery to make its way into the next book and lighter moments as well.
FINAL THOUGHTS
In all, in this case I think that reading the novellas in this series is a brilliant way to supplement the full novels and provide further insight into the characters. I can't wait to see what happens next in Rowan and Dahlia's journey, as the tension is definitely building.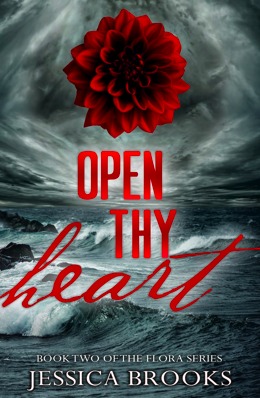 Open Thy Heart
by
Jessica L. Brooks
Released:
9th September 2014
Series:
Flora #2
Genre:
YA Magical Realism
Source:
Author
My Rating:
5 of 5 stars
Goodreads
|
Amazon
The secrets just keep coming.

It's summer in Shaver and, frankly, Dahlia Kennedy is bored. Even though she and Eva are throwing a party for David and she gets to visit Rowan in Ambrosia easier on account of summer hours, it seems like senior year is never going to come. Worse yet, it's looking like the one thing she's planned on doing for forever isn't going to happen. Cue Dahlia's Embarrassing Incident: the tipping point that seems to shift everything into a new direction. David's acting weird. Something happens to Rowan. Dahlia's forced to ask the least likely person ever for help. A secret is blown wide open.

Conflict between the Lennox Rochforts and the Townsends grows more and more out of control until so much is going on in Ambrosia, Dahlia can barely keep up with life at home. Frustrated with trying to keep track of who knows what, Dahlia continues fighting to help the people she loves, and slowly, the truth is exposed. Crazy thing is, she had no idea about any of it. And it changes everything she's ever known.
I received copy of this book from the author in exchange for an honest review
Admittedly
, I already am a big fan of this series, so yes I love this book. Every new release in this Flora collection keeps getting better, with new revelations and exciting developments abound. It's got everything you could want in a book with magical realism - pretty covers (not essential but it definitely helps), well rounded characters, fascinating storyline and of course the weaving of contemporary and fantasy elements in just the right amount. There's also the fact that you can say the names of these first three books in one sentence and it sounds pretty cool *ahem* If I speak true by sun and candlelight, open thy heart *ta daaaaa*. Anyway, back to this review...
The first Dahlia made a mistake. But I won't be like her, won't turn my back on Ambrosia. It's part of who I am.
From the very beginning of this book in the first few pages I was totally drawn in because it starts quite unconventionally, writing in second person and addressing the reader. There's also some poetry with a quote from Elizabeth Barrett Browning which is lovely and sets the scene really well. On the whole the writing style itself is smooth and flows well, and although it isn't anything flamboyant or presumptuous, it does include those little beautiful phrases which the author executes so well.
Sometime when there's so much going on in life, the best thing you can do is live in the moment. You focus on that specific time, and when it has dissipated, you live in the next.
In regards to the storyline, in this book things between Shaver and Ambrosia really get intense. What I love about this series especially is the exploration of different relationship dynamics, such as those between Dahlia and her friends Eva and David, within her family with her mum and sisters, and Rowan with Briscoe and Durian for example. The two worlds converge in a way that I hadn't seen before in the first book, and some of the more shocking moments had twists with a wow factor. There is an equilibrium between the fantasy side of things and contemporary, where Dahlia is involved in simple things such as trying to get her license, but then also has to take into consideration her special place in Ambrosia.
FINAL THOUGHTS
I'm really loving this series so far and cannot wait to see what Jessica Brooks is going to come up with next. If you haven't started it yet or are looking for your next awesome read, then what are you waiting for?!