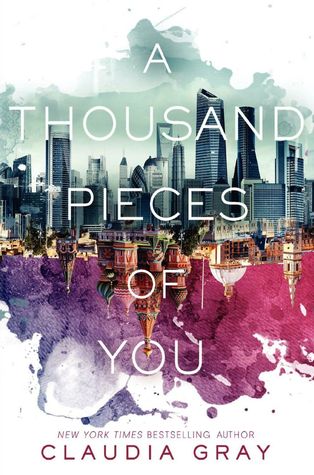 A Thousand Pieces of You
by
Claudia Gray
Series:
Firebird #1
Released:
4th November 2014
Published by:
HarperCollins
Genre:
YA Science Fiction
Source:
Publisher
Pages:
368
My Rating:
5 of 5 stars
Goodreads
|
Bookworld
|
Book Depository
Every Day meets Cloud Atlas in this heart-racing, space- and time-bending, epic new trilogy from New York Times bestselling author Claudia Gray.

Marguerite Caine's physicist parents are known for their radical scientific achievements. Their most astonishing invention: the Firebird, which allows users to jump into parallel universes, some vastly altered from our own. But when Marguerite's father is murdered, the killer—her parent's handsome and enigmatic assistant Paul—escapes into another dimension before the law can touch him.

Marguerite can't let the man who destroyed her family go free, and she races after Paul through different universes, where their lives entangle in increasingly familiar ways. With each encounter she begins to question Paul's guilt—and her own heart. Soon she discovers the truth behind her father's death is more sinister than she ever could have imagined.

A Thousand Pieces of You explores a reality where we witness the countless other lives we might lead in an amazingly intricate multiverse, and ask whether, amid infinite possibilities, one love can endure.
Thank you to HarperCollins Publishers Australia for sending me a copy of this book in exchange for an honest review'
If you really want to narrow it down, all I have to say about A Thousand Pieces of You is that it's...
Not only does it have the most stunning cover I have seen in YA to date, but the premise and its execution are also brilliantly done. What Claudia Gray has created is a multi-layered novel with such a creative concept of different universes existing parallel to our own, complete with a well-developed set of characters, a hint of mystery and suspense, and storyline that leaves you with wow moments at every turn.
Every form of art is another way of seeing the world. Another perspective, another window. And science - that's the most spectacular window of all. You can see the entire universe from there.
The sound of the multiverse aspect of this book drew me in from the very beginning, and fascinated me throughout. The explanations given on how the Firebirds worked and the possible logical explanations for there to be many universes which a person could travel to using the device was cleverly done without causing an information overload. What kept me zooming through the pages was the fact that the setting wasn't static, rather it shifted as Marguerite did in trying to solve the puzzle of what really happened to her father, and who was behind it. The vivid descriptions of a futuristic and sleek London in one universe, contrasted with classical Russia, and then even going to a world where people are living in some places underwater; made for a riveting read. I loved seeing how Marguerite was able to adapt to each situation, and how the science-fiction aspect regarding the Firebird still made an impact everywhere she went.
This, I think, is the boundary line of adulthood. Not the crap they claim it is - graduating from high school or losing your virginity or getting your first apartment or whatever. You cross the boundary the first time you're changed forever. You cross it the first time you know you can never go back.
Marguerite herself was a well-developed and complex protagonist who was both courageous and sensitive at the same time. Independent and mature in approaching any problems or crises that came her way in her adventures, I was so glad to be able to really understand her perspective through Gray's three-dimensional writing. I love how Marguerite was her own person aside from her genius parents and wanted to stand by her dream of being an artist. Even when it came to the romantic side of things, she didn't suddenly turn into a clingy person, but instead was mature and thought with both her head and her heart.
We look into each other's eyes, and I feel something I've only ever felt once before - this dizzying sense like being at the edge of a cliff, both scared to death and yet feeling the inexplicable, insane urge to fling yourself into the sky.
As far as romances go, in this book it is definitely a factor, but certainly doesn't detract from other aspects of the story. There may have been at times a hint of a love triangle (note the emphasis on hint), but it soon became apparent that this novel refused to be a cliche, and I'm glad. In terms of the male characters, both Theo and Paul had their own roles to play in the story, and I found their dynamic quite interesting to read about as well. In different universes, their characteristics were slightly different, although overall their distinctive mannerisms and thoughts regarding Marguerite manifested clearly.
FINAL THOUGHTS
A Thousand Pieces of You
is one of my top books of 2014. It delivered everything I hoped and more, in an impressive piece of fiction that leaves me in a position where I can't wait for the sequel. In other words: