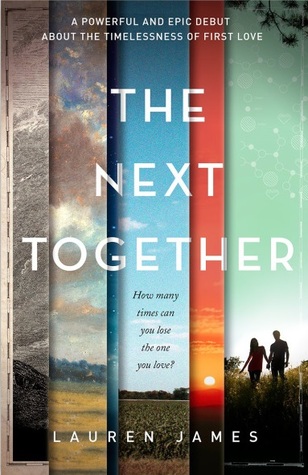 The Next Together
by
Lauren James
Series:
The Next Together #2
Released:
3rd September 2015
Published by:
Walker Books Australia
Genre:
YA Science Fiction/Time
Source:
Publisher
Pages:
356
My Rating:
4 of 5 stars
Goodreads
|
QBD
|
Booktopia
How many times can you lose the person you love? Katherine and Matthew are destined to be born again and again, century after century. Each time, their presence changes history for the better, and each time, they fall hopelessly in love, only to be tragically separated.

Spanning the Crimean War, the Siege of Carlisle and the near-future of 2019 and 2039 they find themselves sacrificing their lives to save the world. But why do they keep coming back? What else must they achieve before they can be left to live and love in peace? Maybe the next together will be different...

A powerful and epic debut novel for teenagers about time-travel, fate and the timelessness of first love. The Next Together is told through a mixture of regular prose, diary entries, letters, "original" historical documents, news reports and internet articles.
Thank you to Walker Books Australia for sending me a copy of this book in exchange for an honest review
Nothing is more romantic than a great love which spans the ages - and that's just what The Next Together delivers. In this YA novel which encapsulates a range of genres and styles, Lauren James has created something which is equally entertaining and suspenseful. Through creatively weaving different time periods and settings with Kate and Matt as the common denominator throughout, this story is one that stands out as not just a romance, but something that is so much more.
If you're like me and love both sci-fi/time travel and historical fiction, combined with a romantic element executed well, then The Next Together will work for you. While the futuristic settings of 2019 and 2039 are not too different from our own, the historical settings of 1745 during the Siege of Carlisle and 1856 in the Crimean War added whole new levels of drama and complexities to their relationship. It was interesting to see how the social norms of the times had an impact on the dynamic of their bond, be it forbidden love or a passionate affair because life could end at any moment. I loved getting to know these different versions of Kate and Matt that were similar to their future selves and still had their own unique nuances which fit with the times. While these historical setting weren't described in as rich a detail as you would find in a historical fiction novel specifically, it was relatively easy to visualise the settings which the author was trying to convey.
Unique formatting is becoming more prevalent in recent YA releases, and I'm so glad to see it in this book. There are excerpts from emails, maps, computer coding and letters all woven throughout the story, to make it seem more real. It does add that added level of personalisation and authenticity to a text which is at its heart fictional, and kept me attentive as well. I think it's these little additions which can make a reading experience all the more special because it does stand out from say, other romance or time travel novels I may have come across.
FINAL THOUGHTS
The Next Together
is a romantic read which also deals with some of the 'wibbly wobbly timey whimey' stuff which is unique to Matt and Kate's relationship. There is definitely room for a sequel, and so I can't wait for
The Last Beginning
!
Author QnA with Lauren James!
What was your main inspiration for this book?
It was inspired by time travel romances like Outlander and The Time Traveler's Wife. I really wanted to write a book which combine my love for Jane Austen with my equal enjoyment of Doctor Who. I started writing by making a huge list of all the things I love reading most, and tried to combine them all into one storyline. It was quite challenging, but very satisfying!
The concept of Nature versus Nurture – seeing how someone with unchanging personality traits can change just because of their upbringing – has always interested me. I was drawn to the idea of reincarnation because I thought it would be a really interesting plot device to use to explore this kind of characterisation, as I could write about the same people in different lives.
Fanfiction AUs were also a big inspiration for the multiple timelines of The Next Together – I love reading about my favourite characters in different situations, and seeing how the same core relationships play out in a variety of ways because of their environment. I wanted to explore that in a novel.
I love how there were so many settings and times throughout history explored in this book. What sort of research did you do to make this book believable and the different settings pop?
In hindsight, choosing a storyline with multiple historical time periods might have been a bad idea for my first ever novel, which was hard enough to write without the research!
I was a student when I started writing as a hobby, so I didn't want to spend any money on history textbooks. I actually chose the timelines in the book based on which I could research for free, mainly using my university library and primary sources available to access on Google Books. It seemed to work out quite well!
If there was anything I couldn't find out through research (even when I caved and bought textbooks, after I realised I wanted to make the story into a proper novel!) I used my imagination, and a bit of dramatic licence.
This isn't just a romance and encapsulates a few different genres which is really interesting. However what do you think makes people fall in love with a good romance story?
I think when the characters feel real, and you can really feel the connection between them, people will be hooked. If there's an interesting, unique pairing, I'll follow them through any storyline imaginable just to spend more time with them. A good romance is some that's hard to pinpoint, but you know if when you read it.
The extra notes, letters, maps and other files interspersed within the writing made for some intriguing additions to the story - how did they end up becoming part of the book?
I wanted to keep an element of continuity throughout the book, so that the book felt like it all tied together, rather than being a collection of stories about separate people. The documents and letters were my way of doing that.
I designed crude versions of the maps and notes in Microsoft Word (originally just as a way to procrastinate from writing!). Then the Walker designer Jack Noel took all my notes and made them into professional graphics. He did an excellent job, and I absolutely adore the finished book. There are so many little details, like the timelines across the tops of the pages which match up with the time period in the chapter. It's so rewarding to read!
What was your biggest challenge in writing 'The Next Together'?
The historical research! The book includes two storylines set in the past, one in 1745 and one in 1854. I was very naïve when I started writing, and definitely didn't know what I was getting myself into. I was a very frequent visitor of Wikipedia. I spent a lot of time reading old books and diaries and making endless notes. It was definitely worth it though – I hope it adds more realism to the time periods.
The various plot threads and time periods were also a little complicated to keep track of, I admit! Especially during editing, when I struggled to remember which plotlines I had written, which I had removed from an earlier draft, or had yet to write! As the plot involves time travel elements, this made is especially confusing, both for myself and my editor. I had to make a lot of posters keeping track of plots.
Do you have any advice for other aspiring authors out there?
Find out what makes your writing unique and own it. Be completely shameless about it in your query letter. If you love the zombie cats in your novel, make sure they are front and centre in your query. You need to find an agent who loves your book as much as you do, and spending months crafting the perfectly written query letter isn't going to do that – but maybe persuading them to read the book with the promise of zombie cats might.
Can you give us any little hints about what to expect in the next book?
The Last Beginning continues the story of Kate and Matt, as well as introducing some new characters, Clove and Ella. I'm not sure what I can share about it yet, except to say that it's just as timey wimey and romantic as the first book, although this time it has a LGBT romance. I like to think of the series as Jane Austen meets Doctor Who, and that is even more appropriate for the sequel than for The Next Together.
Monday, November 9,
Genie in a Book
Tuesday, November 10,
Dymocks Bookmarked
Wednesday, November 11,
Nicole Has Read
Thursday, November 12,
Cassie the Weird
Friday, November 13,
Imaginary Misadventure
Saturday, November 14,
The Book Addict