I've been shaking up my reading habits recently, choosing some more adult fiction and even some horror which was a totally different experience. That being said, I'm looking forward to also getting back to YA with Gabrielle Tozer's upcoming release
Remind Me How This Ends
- so stay tuned!
Currently Reading
Reading more than one book at once seems to be becoming the norm with me, and these two could not be more different. At over 1000 pages, Voyager is a hefty book, but at almost the halfway point I'm finding it's still an enjoyable read. The Outlander series is slowly becoming one of my favourites in historical fiction, and I look forward to seeing how the saga continues. Diana Gabaldon's captivating writing style certainly makes it easier to commit to completing it.
As for The Troop, I'm not too far in yet, but can already tell it's going to get very strange, and more than likely extremely disturbing. There's a Lord of the Flies vibe to it at the moment, but other than that I have no idea what I'm getting myself into here. Time will tell.


Book Haul
This book has been translated from Swedish which is quite interesting, and sounds like a feel-good read. I love the sound of the jazz music playing a large role too. Thanks Allen and Unwin for the review copy!
What I've Been Watching
Hidden Figures
was every bit as amazing as I hoped it would be. Not only was the casting perfectly done, but this story based on true events is a true inspiration. I really hope to
read the book
one day as well to learn more about these extraordinary women who it appears had both intelligence and sass in abundance.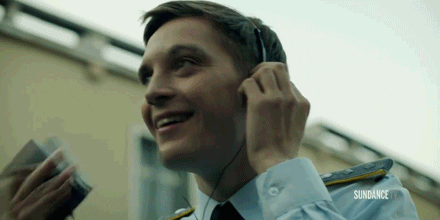 Deutschland 83 is the latest historical drama TV series I've been hooked on. In German with English subtitles, it provides a fascinating portrayal of life in Germany in the context of the Cold War, with reference to both the political climate and social unrest at the time. There are some lighter moments in the first few episodes, but towards the end of the first series where tensions are running high and more lives are at stake than what was first thought, the plot does take a darker turn. A spy-thriller with a twist, I'm already highly anticipating the second season.
What have you been reading/watching lately?