As you can probably tell from the title, this post is going to include my condensed thoughts on a range of books (with titles that can make some pretty interesting sentences).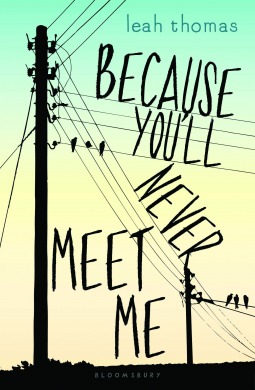 Because You'll Never Meet Me
by
Leah Thomas
Released:
2nd July 2015
Published by:
Bloomsbury
Genre:
YA Contemporary/Speculative Fiction
Source:
Publisher
Pages:
344
My Rating:
4 of 5 stars
Goodreads
|
Bookworld
|
Book Depository
In a stunning literary debut, two boys on opposite ends of the world begin an unlikely friendship that will change their lives forever.

Ollie and Moritz are best friends, but they can never meet. Ollie is allergic to electricity. Contact with it causes debilitating seizures. Moritz's weak heart is kept pumping by an electronic pacemaker. If they ever did meet, Ollie would seize. But Moritz would die without his pacemaker. Both hermits from society, the boys develop a fierce bond through letters that become a lifeline during dark times—as Ollie loses his only friend, Liz, to the normalcy of high school and Moritz deals with a bully set on destroying him.

A story of impossible friendship and hope under strange circumstances, this debut is powerful, dark and humorous in equal measure. These extraordinary voices bring readers into the hearts and minds of two special boys who, like many teens, are just waiting for their moment to shine.
Thank you to Bloomsbury Australia for sending me a copy of this book in exchange for an honest review
Because You'll Never Meet Me is a fascinating epistolary novel which epitomises the idea of an 'unlikely friendship'. When two boys, both having their own unique responses to electricity begin talking, the blossoming kinship that follows makes for an endearing read. As a piece of speculative fiction that morphs the real with the somewhat unfathomable, this story is both refreshing and delightfully told in a way that does have a special 'spark' (pun intended).
Living in isolation with his mother in the woods, it's safe to say that Ollie didn't get out much, especially when there's the case of being allergic to electricity. When his doctor suggested he communicate with another boy in Germany, Moritz, the pair begin a correspondence which slowly warms up to friendship. It's always good to see two very different characters come together (without actually meeting of course) like they do in this book - both Ollie and Moritz had their own distinct voices and personalities which came through in the letters, and in this way it was easy to see how they developed as characters. There's a lot going on in the background as well though, in each of their families and the world beyond, which was fascinating to read about. The thing that struck me here was that I really didn't know where the story was going to go - because it doesn't follow any 'normal' contemporary formula. The sci-fi elements do yes, make the story a tad too unrealistic at times, but by the same token that's the quality which makes this book stand out in its own right,
Above all however, this is a novel about overcoming obstacles and perseverance in a friendship. Hope is never unreachable, and there is always someone to understand our own anxieties and the journey of emotions we are experiencing. There's a bigger picture at play here beyond the usual sequence of events, and it is this message which comes through that makes this book well worth a read.
FINAL THOUGHTS
Just looking at the synposis for this book won't tell you the full depth and breadth of it, so you just have to read it yourself. There are deeper issues at play here, and Leah Thomas has found a way to make the unbelievable resonate with us readers on a deeper level. If for nothing else, read this for the electric vibe coming through, not just in the dynamic nature of the characters, but the sheer unpredictability of the plot. I'd love to see what she writes next!
Bright Before Sunrise
by
Tiffany Schmidt
Released:
14th April 2015
Published by:
Bloomsbury
Genre:
YA Contemporary
Source:
Publisher
Pages:
304
My Rating:
3.5 of 5 stars
Goodreads
|
Bookworld
|
Book Depository
Jonah and Brighton are about to have the most awkwardly awful night of their lives. For Jonah, every aspect of his new life reminds him of what he has had to give up. All he wants is to be left alone. Brighton is popular, pretty, and always there to help anyone . . . but has no idea of what she wants for herself. Her seemingly perfect life is marred only by Jonah, the one person who won't give her the time of day, but also makes her feel, well, something. So when they are repeatedly thrown together over the course of one night, anything can--and does--happen. Told in alternating chapters, this poignant, beautiful novel's energy and tension, amidst the humor and romance, builds to a new beginning of self-acceptance and hope.
Thank you to Bloomsbury Australia for sending me a copy of this book in exchange for an honest review
There's no doubt that it would be challenging to write a profound and thoughtful novel which is set in such a short space of time as one night. But in the case of Bright Before Sunrise, I do think that Tiffany Schmidt has made a notable achievement in showcasing the typical 'boy meets girl' trope with a new angle. This is a YA contemporary novel which is jam-packed with both emotional tension and drama within a matter of hours and so makes for a quick read as time really does fly.

Brighton (am I seeing a pun here with the title name too?...) is the quintessential 'good girl' at school, though is fighting her own grief over her father's sudden death. Jonah is bitter and angry following his parents' break-up, and refuses to assimilate in this new school on the rich side of town where he feels he doesn't belong. A series of fated events lead them to meet, and though hostilities may at first show through, it's amazing how provoking a new person in town can be.

You can't really deny that Jonah at first seemed like a jerk - he's rude and just doesn't want to be in the situation he's been forcibly thrown in to. I did feel sorry for him to an extent, though I was hoping that things would get better. What happens between him and Brighton in those hours they are together isn't something which I would say moved along monumentally quickly, but there was definitely a transformation on both sides. It was certainly interesting to see how both characters had their perspectives in different fonts, and how the clock was ticking down to an important milestone the next day. I liked how the vulnerabilities and insecurities within them both became apparent, and how past prejudices were shattered. It's a valuable lesson to learn with anyone really that having preconceived notions about them is never a good idea, and perhaps those who we initially dislike can be the catalyst for a surprising awakening in ourselves.
FINAL THOUGHTS
In all,
Bright Before Sunrise
was an enjoyable read in the end, and conveyed that being true to yourself and ready to move on from the past are two of the most important things in life. Whilst there were some limitations due to the timeframe, I still found this book to have some pretty solid positives and I would read more from this author in future.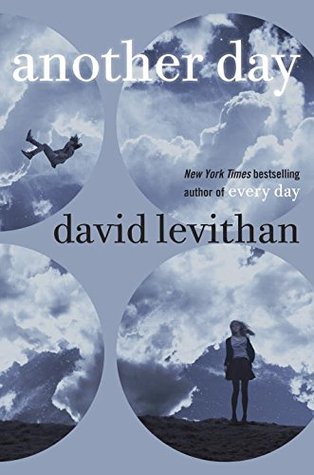 Another Day
by
David Levithan
Released:
25th August 2015
Published by:
Knopf Books for Young Readers
Genre:
YA Contemporary/Speculative Fiction
Source:
Netgalley
Pages:
300
My Rating:
2.5 of 5 stars
Goodreads
|
Bookworld
|
Book Depository
The eagerly anticipated companion to David Levithan's New York Times bestseller Every Day In this enthralling companion to his New York Times bestseller Every Day, David Levithan (co-author of Will Grayson, Will Grayson with John Green) tells Rhiannon's side of the story as she seeks to discover the truth about love and how it can change you.

Every day is the same for Rhiannon. She has accepted her life, convinced herself that she deserves her distant, temperamental boyfriend, Justin, even established guidelines by which to live: Don't be too needy. Avoid upsetting him. Never get your hopes up. Until the morning everything changes. Justin seems to see her, to want to be with her for the first time, and they share a perfect day—a perfect day Justin doesn't remember the next morning.

Confused, depressed, and desperate for another day as great as that one, Rhiannon starts questioning everything. Then, one day, a stranger tells her that the Justin she spent that day with, the one who made her feel like a real person . . . wasn't Justin at all.
I received a copy of this book via Netgalley in exchange for an honest review
Considering how much I loved Every Day, I had high hopes for this companion novel...and unfortunately they weren't realised. Whilst it was nice to see the story through Rhiannon's eyes, I can't say that for me it was as fascinating as having the speculative fiction element as the central focus with A's perspective. That being said, I feel that the two books could be read separately or out of order, so if you want to start with the more contemporary side, then this book may appeal more to you.
There's 'trouble in paradise' for Rebecca when the enigmatic 'A' enters into Justin, her boyfriend's body for a day which turns out to be the best in their relationship. Justin (the real one) was a complete and utter moron for the rest of the book, so being someone else was a definite improvement. If I didn't like him in the first rendition of this story, then I couldn't stand him in this one. It's not so much the fact that he's so possessive (though that is an issue), but also that he treats Rhiannon like crap and she just puts up with it. Her friends were right about them not truly suiting each other, and though he does have feelings too - he just wasn't good news and irritated me to no end. Knowing how the story would go anyway as it is the same plot as its sibling, I found myself just wanting to skim by because there wasn't much really 'happening' in places. I just wish that I had been able to connect more with the characters this time around, but I couldn't form that same bond as I had before.
That being said, there were some quite profound moments as Rhiannon found redemption by actually thinking for herself. She proves that she does have a backbone and wants a real love, that although unique, is also fulfilling emotionally. 'A' was given a different filter in this book I found, and definitely more on a subjective level as we saw him/her through Rhiannon's perspective. In some ways I could sympathise with her uncertainty and confusion over the ambivalence of it all and the sheer strangeness of meeting someone who was constantly morphing identities.
FINAL THOUGHTS
I have mixed feelings about
Another Day
- while on the one hand it didn't live up to the amazingness of
Every Day,
it does have some good qualities about it as it provides a fresh perspective on what happened. If you want to read one of these for the first time though, I'd definitely recommend going for the original.